VITA Volunteer Spotlight: Linda Lamirande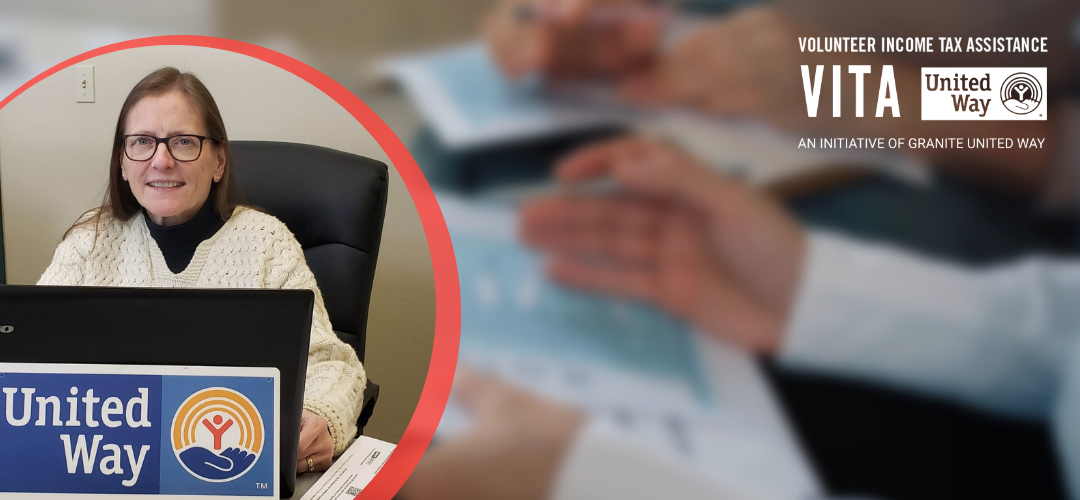 Granite United Way's Volunteer Income Tax Assistance (VITA) program offers free tax preparation services to low-income taxpayers, people with disabilities, non-English speaking taxpayers, and the elderly. These individuals may not have the financial resources to hire a tax professional.
The success of initiatives like VITA relies heavily on our IRS-certified VITA Volunteers. As part of this statewide effort, VITA volunteers complete more than 5,000 federal tax returns each year, bringing more than $5.5 million back into the bank accounts of New Hampshire residents.
In Granite United Way's Northern Region, there are many residents who have come to depend on the important program.
Linda Lamirande has volunteered as a Granite United Way VITA Volunteer for over 18 years in the Northern Region and is committed to helping those in her community. Before retirement, Linda worked for Tri-County CAP, a multi-purpose, social service and advocacy agency that's headquartered in Berlin, New Hampshire. She has sat on multiple boards including the Family Resource Center and Granite United Way's Community Impact Committee. Through this work, she knows the importance of helping low-income and disabled individuals remain financially stable.
As a Volunteer Income Tax Preparer, she helps to prepare and review tax returns at the Gorham, NH VITA site. With just three volunteers, this tax season is busy as ever. On average, this site prepares taxes for about 150 individuals and families per year.
"My favorite thing about volunteering for VITA is being able to help people understand their finances and better utilize those funds," shares Lamirande. "Being able to answer questions and be a resource in my community gives me a purpose."
An added benefit to having your taxes prepared through the VITA program is the financial stability and asset-building counseling that comes with your filing appointment. VITA volunteers are trained to identify tax credits and deductions that individuals may be eligible for, such as the Earned Income Tax Credit (EITC) or Child Tax Credit (CTC). By claiming these credits, VITA helps filers claim additional tax refunds, which can be a significant financial boost for families struggling to make ends meet.
At the end of your appointment, filers are given the option to split a portion of their refund into a savings account, or US savings bond, to create a cushion in the event of a loss of income or an unexpected expense. All filers who opt to "split their refund" are also entered into a national savings incentive promotion to win cash prizes. These asset-building resources help clients overcome economic and personal hardships they are facing or may face in the future.
"There have been so many happy experiences throughout my 18 years as a VITA Tax Preparer, says Lamirande. "I love connecting taxpayers to resources, teaching them about tax credits such as the Earned Income Tax Credit and the Child Tax Credit, and ultimately saving them hundreds of dollars."
Granite United Way's VITA program is a great opportunity for anyone interested in helping those in your community. No experience in tax preparation or finance is needed and there are a variety of roles that you can participate in. Training is provided, along with an IRS certification and the support you need to be successful. The average weekly time commitment for VITA volunteers is about is 3-to-5 hours during tax season.
"The winters can be long and volunteering is a rewarding and tangible experience," says Lamirande. "For anyone that has the time, I always say to just do it!"
Click here for more information about Granite United Way's VITA initiative or if you are interested in volunteering as a VITA tax preparer.
Return to news