About Us
More than 22,000 donors and volunteers working together to provide nearly $14 Million in support to 350,000 individuals across New Hampshire and Windsor County, Vermont. That's a snapshot of what Granite United Way is.
Granite United Way is the result of six United Ways merging together to create a single, efficient organization that covers more than 80% of New Hampshire and Windsor County, Vermont.
On July 1, 2010, the former United Ways known as Heritage United Way, United Way of Merrimack County, Upper Valley United Way and the North Country United Way officially merged to form Granite United Way. On February 1, 2012 the former United Way of Northern New Hampshire became part of Granite United Way. Inspired by the strength demonstrated in the previous mergers, on January 1, 2013 the former Lakes Region United Way officially joined Granite United Way. That region is recognized as the Central New Hampshire region.
In communities across America, approximately 1 ,200 United Ways improve lives by mobilizing the caring power of their communities. More than fundraisers, United Ways are partners in change, working with a broad range of people and organizations to identify and resolve pressing community issues.
Granite United Way's commitment to transparency and efficiency has been recognized at the national level with recognition by both Charity Navigator and GuideStar, organizations that rate charities on these areas.
We work closely with volunteer leadership to invest donor dollars to help our community Learn, Earn and Be Healthy. By focusing on these investment initiatives, we are helping people in a new and strategic ways. Because great things happen when we Live United.
Give. Advocate. Volunteer. LIVE UNITED.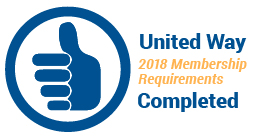 Click here for Granite United Way's Audited Financials
Click here for Granite United Way's 2018 Community Report
Click here for Granite United Way's Privacy Policy
Click here for Granite United Way's Form 990
Click here for Granite United Way's Strategic Plan