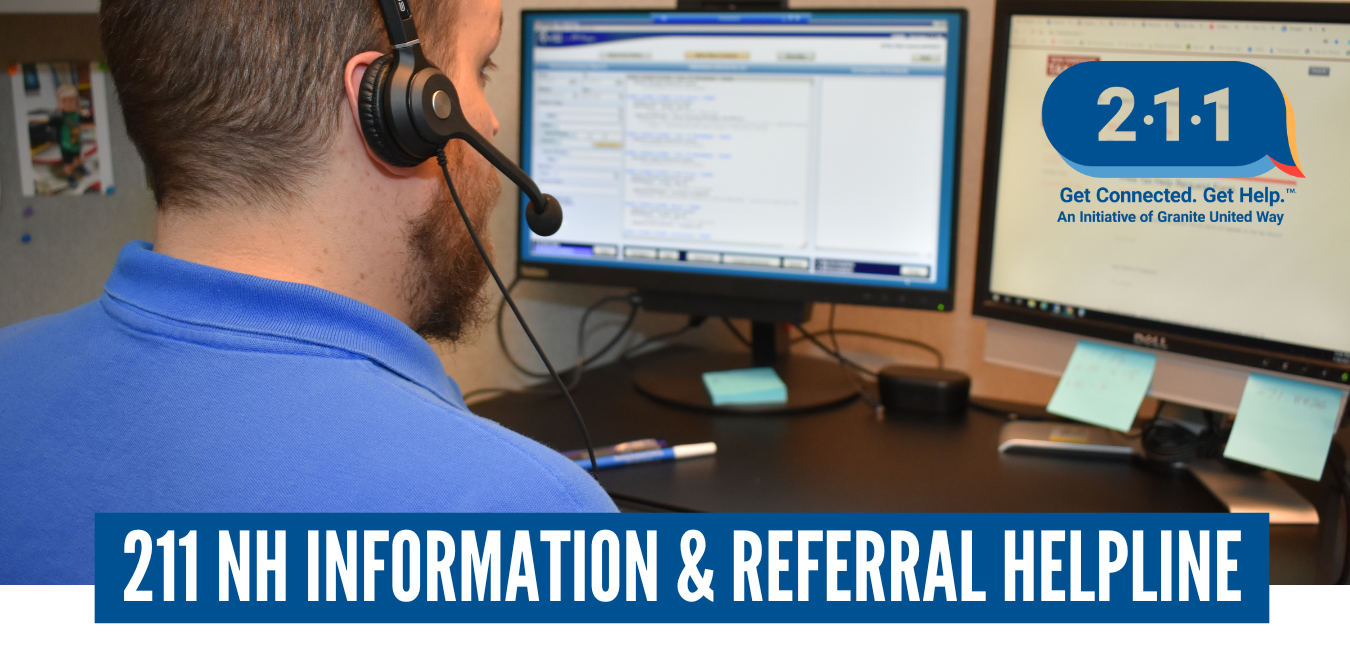 People across New Hampshire face challenges every day and they are unsure whom to call and where to access the resources they need. Fortunately, there is one easy-to-remember phone number to access the health and human services available in our state.
211 is the number to dial when you need help or don't know where to call
Similar to dialing 911, calls to 211 are routed by the local telephone company to a call center. Thanks to our partnership with Eversource, dialing 211 will connect you to 211 NH - a Granite United Way initiative and the information and referral service for the entire State of New Hampshire.
211 NH makes information much easier to find. All calls from anywhere in NH are free and confidential and you are guaranteed person-to-person assistance 24/7 with translation assistance in over 150 languages.
For everyday needs and difficult times, 211 NH is your connection to thousands of resources available in NH.
Information & Referral
While 211 NH does not provide any direct services themselves, their relationships with many key organizations throughout the state, like the Department of Health and Human Services for example, make it possible for callers to get quickly connected to solutions to some of our state's most pressing concerns.
Talk to real people who care
Once connected, callers speak directly with an Information and Referral Specialist, not an automated response, who will match the caller's needs to available resources in a state-wide database and connect them directly to the necessary agency or resources.
211 NH Helped Melissa Save Her Home from Foreclosure
Common call inquiries
Some reasons people have called 211 NH are clothing and thrift shops, community services & organizations, crisis services, discrimination assistance, domestic & sexual violence services, education (GED instruction, computer classes), employment services, food pantries & nutrition programs, health care services, housing (homeless prevention, shelter, tenant's rights), legal assistance, mental health care & counseling, mentoring, military, family & community network, parenting programs, smoking cessation programs, substance misuse prevention, treatment and recovery services, support groups, transportation, utility assistance, youth & family services, veterans services, volunteer opportunities, & wellness programs.
211 NH is an important community resource
211 NH is the place to call when you don't know where to turn. It is a resource for individuals, social service providers, and out-of-state family members to access a whole host of services.

We have built an infrastructure that provides one central place, with an easy-to-remember phone number and a statewide database of services, negating the need for multiple "helplines" and resources being spent to create resource directories that are quickly outdated.
Without 211 NH
Individuals & Social Service Providers would have a hard time finding the resources they need to find.
Access to services would be scattered
People in need would be responsible for making multiple cold calls to community organizations
Government agencies, including the 9-1-1 system, would be left to take many of the 30,000+ calls that 211 NH handles annually

Visit www.211nh.org for additional information. To view our 211 NH palm card click here.