Upper Valley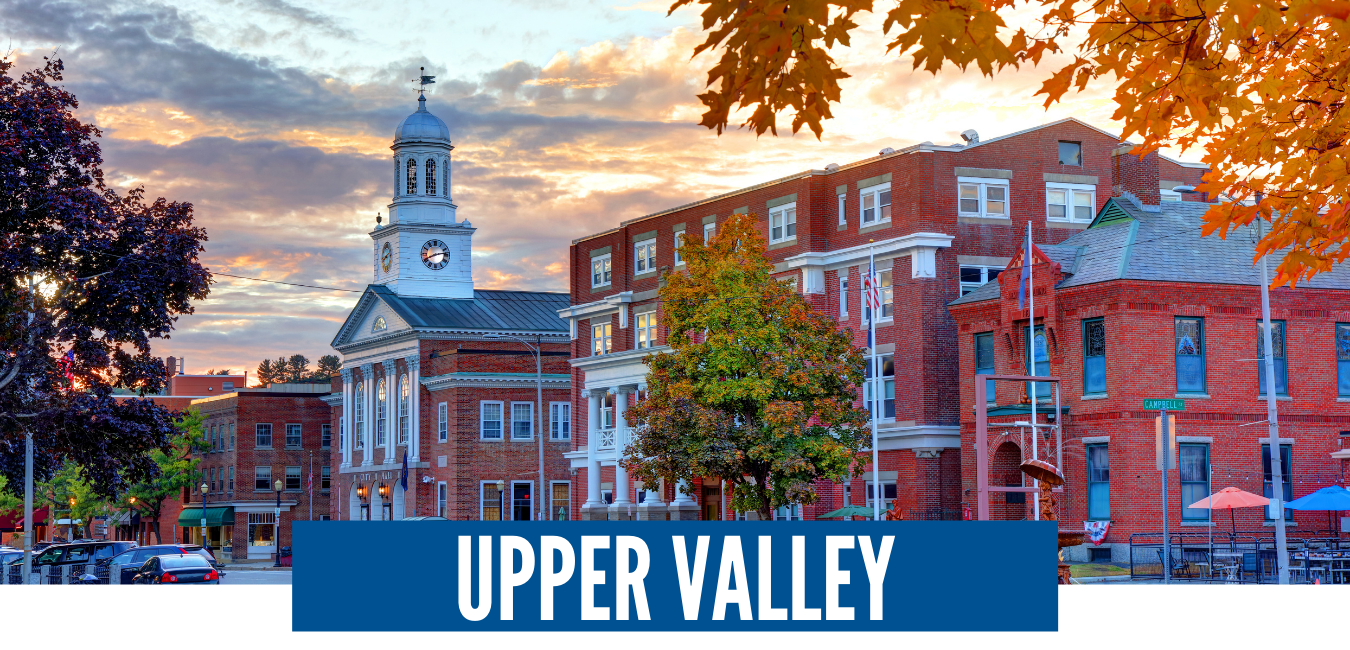 Granite United Way's Upper Valley Region is committed to strengthening our communities.
Our Upper Valley region covers communities in both New Hampshire and Vermont. In this region, our Community Impact Committee volunteers have targeted their investments in this region to address the needs of the low-income wage earner. They also continue to invest in initiatives and programs that focus on Education, Income, and Health.

Volunteer Income Tax Assistance (VITA)
Volunteer Income Tax Assistance is a FREE tax preparation program designed for low-to-moderate-income households with an income.
To learn more about VITA click here.
Recovery Friendly Workplace
The Recovery Friendly Workplace Initiative gives business owners the resources and support they need to foster a supportive environment that encourages the success of their employees in recovery.
To learn more about Recovery Friendly Workplace click here.

Work at an agency and want to recruit volunteers in the Upper Valley? Contact Elizabeth.Craib@graniteuw.org.

Your neighbors, local business, and nonprofits are doing some amazing work in the Upper Valley! Check out some of the awesome content generated from your community!
Ledyard Bank: A Strong Community Partner of the Upper Valley
Building Bridges with New Neighbors
Work United Expands to Offer Employee Supports To Small Businesses

Read about some of the local people who have been personally impacted by Granite United Way.


The organizations below are considered Qualified Partners of Granite United Way in the Upper Valley Region. Many, but not all, have also received funding. For more information about becoming a Qualifying Partner, please contact Katie Berndsen, Development and Program Manager, at Katie.Berndsen@graniteuw.org.
Adaptive Sports Partners of the North Country
Bethany Christian Services of NNE
CCBA
Child Care Center in Norwich
Children's Center of the Upper Valley
Circle Program
Copper Cannon Camp
Senior Solutions
COVER Home Repair, Inc.
Creative Lives
Daniel Webster Council, Boy Scouts of America
Disability Rights Center - NH
Dismas Home of New Hampshire
Easter Seals New Hampshire, Inc.
Epilepsy Foundation New England
Girls Inc. of New Hampshire
Global Campuses Foundation
Good Beginnings of the Upper Valley
Good Neighbor Health Clinics
Grafton County Senior Citizens Council, Inc.
Green Mountain Children's Center
GreenPath Financial Wellness
Hartford Community Restorative Justice Center
Hartford Dismas House
Headrest, Inc
HIV/HCV Resource Center
Lakes Region Community Services
Ledyard Charter School
LISTEN Community Services
Making Matters NH
Mascoma Community Healthcare, Inc.
Mayhew Program
Media Power Youth
New Hampshire Harm Reduction Coalition
New Hampshire Legal Assistance
Public Health Council of the Upper Valley
Riverbend Community Mental Health
Safeline, Inc.
Second Wind Foundation
Southeastern Vermont Community Action, Inc.
Spark! Community Center
Springfield Family Center, Inc.
Springfield Supported Housing Program
The Family Place
The Granite YMCA
The Special Needs Support Center
TLC Family Resource Center
Turning Point Recovery Center of Springfield, VT
Twin Pines Housing
Upper Valley Habitat for Humanity
Upper Valley Haven
Upper Valley Humane Society
Upper Valley Trails Alliance
UpReach Therapeutic Equestrian Center
Valley Court Diversion Programs
Visions for Creative Housing Solutions
Visiting Nurse and Hospice for Vermont and New Hampshire
Vital Communities
Waypoint
West Central Behavioral Health
Willing Hands Enterprises
Windham & Windsor Housing Trust
Windsor County Mentors
Mt Ascutney Hospital and Health Center
WISE
Zack's Place Enrichment Center, Inc.

Cities and towns served through the Upper Valley include:
Canaan, Dorchester, Eastman, Enfield, Enfield Center, Etna, Grafton, Grantham, Hanover, Hanover Center, Lebanon, Lyme, Lyme Center, Orange, Orford, Orfordville, Plainfield, and West Lebanon.

Vermont: Andover, Ascutney, Balitmore, Barnard, Bethel, Bridgewater, Brownsville, Cavendish, Chester, Chester Depot, East Thetford, Fairlee, Gaysville, Hartford, Hartland Four Corners, Ludlow, North Hartland, North Pomfret, North Springfield, North Thetford, Norwich, Perkinsville, Plymouth, Proctorsville, Pomfret, Post Mills, Quechee, Reading, Royalton, Sharon, South Pomfret, South Royalton, South Woodstock, Springfield, Strafford, Taftsville, Thetford, Weathersfield, West Fairlee, West Hartford, Weston, White River Junction, Wilder, Windsor, and Woodstock.
To learn more about our work in the Upper Valley click here.