Granite United Way Welcomes Dr. Charles 'Chuck' Lloyd as Board Chair and 8 New Board Members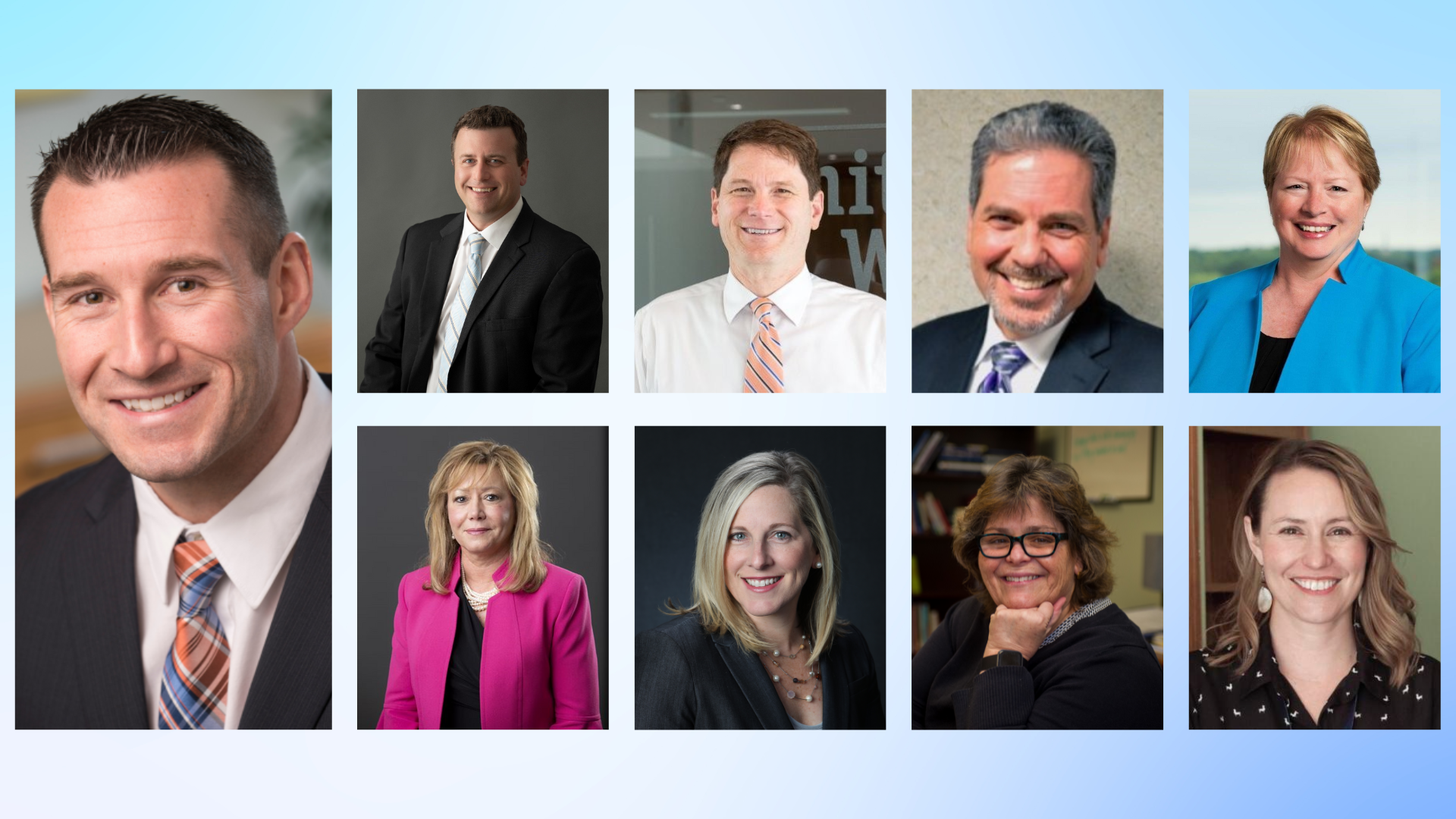 Granite United Way Board of Directors
Granite United Way announced that Dr Charles 'Chuck' Lloyd, President of White Mountains Community College, has been named Chair of the Board of Directors.
In addition, eight community leaders have joined the volunteer Board of Directors.
Granite United Way is the single largest United Way in New Hampshire, serving more than 85% of the State and Windsor County, Vermont. The organization covers the Southern Region, Merrimack County, Central Region, Greater Seacoast Region, Upper Valley, North Country and the Northern Region of the state. Granite United Way is rated a Platinum Level Participant from GuideStar and a Four-Star Charity by Charity Navigator, the highest ratings from these two nonprofit watchdog organizations.
"This will be an exciting year for Granite United Way as our Board has put forth a Strategic Plan this spring which is future-focused and positioning the organization for its next 100 years," said Dr. Lloyd. "I am proud to be chairing this talented Board of Directors."
Dr. Lloyd will be joined by the following Officers:
Joe Bator, Vice Chair
Kathy Bizarro Thunberg, Secretary
Doug deLara, Jr., Treasurer
Charla Stevens, Immediate Past Chair.
"We are fortunate to have a solid Board of Directors dedicated to improving lives across New Hampshire and Vermont," said Patrick Tufts, President and CEO of Granite United Way. "During the last few years we've witnessed many changes in our community needs, and our newly adopted Strategic Plan leverages our strengths to work with partners to address those needs.
New Board Members
Kyle M. Barry - Director of Operations, NextEra Energy™ Seabrook Station
Kyle Barry currently serves as NextEra Energy's Director of Operations for Seabrook Station, located on the seacoast of New Hampshire. In this role, Kyle oversees the safe operation of northern New England's only commercial nuclear reactor.
In his previous roles, Barry has served in senior leadership positions responsible for both Engineering and Maintenance operations at the Seabrook site. He also performed independent inspection activities as a member of the Quality Assurance and Nuclear Oversight group.
Barry holds a bachelor's degree in Marine Engineering from the Massachusetts Maritime Academy and was previously licensed as a Senior Reactor Operator by the United States Nuclear Regulatory Commission. He lives with his wife and two daughters in the town of Newfields, NH.
"I joined the Granite United Way Board after a positive community volunteer experiences with this great organization. I've learned over the years that the staff and volunteers at Granite United Way have the knowledge and experience to invest in programs that improve the lives of our neighbors in the New Hampshire community."
Paul DeBassio – Retired United Way network executive
Paul DeBassio is a retired United Way network executive with 20 years of United Way leadership experience. DeBassio has served United Way at the local, national and global level. After serving 12 years at United Way of Massachusetts Bay & Merrimack Valley as Chief Development Officer, Paul served 5 years at United Way Worldwide first as VP, US Network Engagement & Performance and then as EVP, Chief Investor Relations Officer. He wrapped up his United Way career serving his local United Way, Granite United Way as Chief Development Officer June 2018 – August 2020.
His professional United Way focus has always been on driving performance through building strong relationships with key stakeholders, implementing change management, advocating for community impact, and creating collaborative environments which empower staff and volunteers to actively engage in strategic planning and implementation. He has continued his passion for community change, and the need for United Way to change in today's environment, with contract assignments supporting local United Ways in strategic planning, implementation and execution, as well as Executive Coaching and leadership training.
Prior to joining United Way, DeBassio spent 13 years in for-profit sales and sales management. DeBassio is a 1987 graduate of The Carroll School of Management at Boston College. He met his wife Sue while at Boston College and they have been married for 35 years. They now live on Newfound Lake, just 2.3 miles from their son Joey.
Outside of continued contract work, DeBassio serves as a Board Member of United Way NEXT (an alumni and retiree organization of United Way leaders), President of Newfound Sands Condo Association, VITA tax preparer at Whole Village Family Resource Center, Appalachian Mountain Club trail maintenance volunteer and a member of Plymouth State University's Business Advisory Board.
"I've spent the majority of my career in service to local communities, including Granite United Way as Chief Development Officer. I've seen first-hand the value United Way creates in strengthening community, and I cannot think of a better way to continue serving communities across New Hampshire and Vermont, than to serve on the Granite United Way's Board."
Bill Keena – Market President, New Hampshire for AmeriHealth Caritas New Hampshire
In this role Bill is responsible for the plan's direction, growth, results and leadership. In addition, he serves as the plan's primary point of contact with the state of New Hampshire.
Keena is an accomplished leader with deep experience in Medicaid managed care in New Hampshire and other states. He started his career in claims and customer service, moving into larger assignments and then in Information Technology and later mergers and acquisitions. Keena has been a Vice President of Customer Service at ChoiceCare/Vytra, Senior Vice President of Operations at WellCare, Executive Vice President of Operations at Amerigroup, Chief Operating Officer of Acclaris (a technology firm) and led Mergers and acquisitions integrations at WellCare. Keena most recently served as Vice President of Operations for New Hampshire Healthy Families.
Keena is a graduate of the University of Connecticut with a Bachelor of Arts in Philosophy. He graduated Magna Cum Laude, received "Distinguished Military Graduate" distinction and was inducted into the Phi Beta Kappa society which recognizes exceptional results in scholarship and citizenship in the liberal arts. He also served in the United States Army Reserve for seven years and graduated from the Army's Military Intelligence Officer, Tactical/Strategic Intelligence Officer, and Airborne schools.
In addition, Keena is an active volunteer and has served in leadership roles on a number of charities over the years including as Chairman of the March of Dimes Board for Central and West Coastal Florida, Chairman of the Better Business Bureau of Long Island and Chair of the United Way Giving Committee for Tampa. Keena is delighted to have settled here in New Hampshire and is committed to serving our community.
"I am honored to join the Granite United Way Board because I have seen the tremendous work this organization does across the state to help citizens in need. I have supported the United Way for over four decades now and from assistance to youth, Veterans, the homeless or other areas the Granite State United Way directly serves a huge portion of our community – nearly 40% - and does so in the most active and effective United Way I have ever seen. "
Roxanne Makris – Vice President at Lincoln Financial Group
Roxanne currently serves as VP, Life Underwriting and New Business for Lincoln Financial Group where she oversees New Business Training and Operations Management. As a leader she provides strategies for department learning and governance for mitigating risk exposure within operations and regulatory compliance.
Makris has been part of the Lincoln Team for 38 years serving in various roles throughout the organization. Makris is a Key City Leader for Lincoln Financial Group, leading committees supporting our NH based employee population driving employee and community engagement. Makris is also a member of the Lincoln Financial Foundation responsible for reviewing and approving grants for non-profit partnerships in education, human services, and financial wellness.
She lives in the Concord area with her husband, Lee. They have on daughter who is an elementary school teacher in the community.
"I have contributed to Granite United Way for many years, and through our company campaigns and my role as Key City Leader I have learned a great deal as to the community objectives of this nonprofit organization. I have heard testimonials from colleagues who have used the services provided and the significant impact it made to their family situation. I believe in the importance and the impact Granite United Way makes to our community and I want to be able to contribute more."
Josephine Moran – President and CEO of Ledyard Financial Group, Inc.
Josephine Moran is the President and CEO of Ledyard Financial Group, Inc., headquartered in Hanover, New Hampshire. Ledyard National Bank, founded in 1991, is a full-service community bank offering a broad range of banking, investment and wealth management services. Moran is a member of the Board of Directors as well as member of the Bank's Executive Committee.
With over twenty-five years of leadership experience in the financial services industry, Moran has substantial expertise in community banking, investment services, residential and consumer lending, business banking, small business and customer experience. She has a proven track-record of developing and leading high-performing teams with the ability to initiate change, influence outcomes, and develop and execute strategic plans.
Prior to joining Ledyard, she was the Executive Vice President, Chief Corporate Services and Consumer Lending Officer at Provident Bank, as well as EVP, Head of Retail. Moran has held various Executive Leadership positions in several organizations throughout her career including Wachovia /Wells Fargo, Santander, Columbia and Webster Bank.
She is a member of the Board of Governors at her alma mater University of New Haven and serves as Chairperson for the Pompea College of Business Advisory Board. She is proud to be the founder and chair of the University's Women's Leadership Council, which focuses on providing mentorship, networking and growth opportunities for the university's female students.
Moran is a member of New Hampshire Banker's Legislative Committee, a member of the Upper valley Corporate Council, a member of the Granite State United Way Board of Directors and a member of the UVBA Foundation Committee. She is also an Advisory Council member of the Women's Business Alliance, an international organization committed to the equality of all women in business.
Moran was named one of Industry Era's "Top Ten Women Leaders in 2020". She was featured in Entrepreneur Magazine, Independent Banker Magazine, Mid-Atlantic Banking, and in Thrive Global's "Meet the Female Leaders of Finance" Series. Moran was named one of NJ ROI Influencers if 2021, received the 2020 Middlesex County Boy Scouts Citizenship award and named one of Staten Island's Top Businesswomen in 2015.
Moran holds an Executive MBA from the University of New Haven as well as an M.S. in Finance and Financial Services. She attended the Fashion Institute of Technology in New York where she received her B.S. in Marketing and Management. In addition, she holds Series 7 and 63 licenses.
"I'm honored to join the Granite United Way Board of Directors. I have seen firsthand the tremendous impact the United Way provides, and I look forward to contributing my skills and passion to the cause of improving lives and fostering positive change."
Maura E. Palmer – Superintendent of Schools in Salem, NH
Maura Palmer is Superintendent of Schools in Salem, New Hampshire. She is a graduate of Westfield State University and University of New Hampshire and is currently pursuing a Doctor of Education degree from Southern New Hampshire University. Palmer has a passion for public schools and their mission having worked as a teacher at the elementary and middle school level and as a principal at all levels prior to becoming a district administrator.
"I am delighted to be joining the Granite United Way Board of Directors as the organization's mission 'to improve the quality of life by bringing together the caring power of communities' aligns impeccably with the Core Values of the Salem School District."
Dr. Daisy Pierce – Executive Director at Navigating Recovery of the Lakes Region
Dr. Daisy Pierce has her Ph.D. in Educational Psychology & Learning Sciences from the University of Colorado Boulder. She is a founding member of Navigating Recovery of the Lakes Region who began as a community volunteer before being officially hired as Executive Director. Dr. Pierce's educational and professional backgrounds provide the framework for her passion as a dedicated teacher, researcher, and community member interested in bridging cultural, social, and emotional gaps that hinder acceptance among diverse groups of people. She identifies as a family member in recovery and an ally who brings compassion and dedication to addressing the substance use public health crisis. Dr. Pierce is an active member of many local and statewide task forces and steering committees, including the State Health Assessment & State Health Improvement Plan Advisory Council and the Recovery Friendly Workplace Advisory Council.
"I am excited to join the GUW Board of Directors because I wholeheartedly believe in the power of lifting each other up and improving people's lives by caring for one another. When communities come together, we can have meaningful positive impacts."
Kelli Riggs – Vice President of Marketing Comcast's Northeast Division
Kelli Riggs is the Vice President of Marketing for Comcast's Northeast Division.
She holds a Bachelor's Degree in Marketing from Plymouth State College and an MBA from Southern New Hampshire University. In her free time, she loves to explore and visit new places. Most weekends she can be found on the sidelines of a basketball court or travelling to a gymnastics meet to cheer on her kids.
Riggs resides in Bow with her husband and two children.
"I am excited to be part of GUW for many reasons. The scope of this organization and their resources are great and can still make an impact at the most local level within the communities of New Hampshire."
Return to news