Young Adults Raising Awareness in Carroll County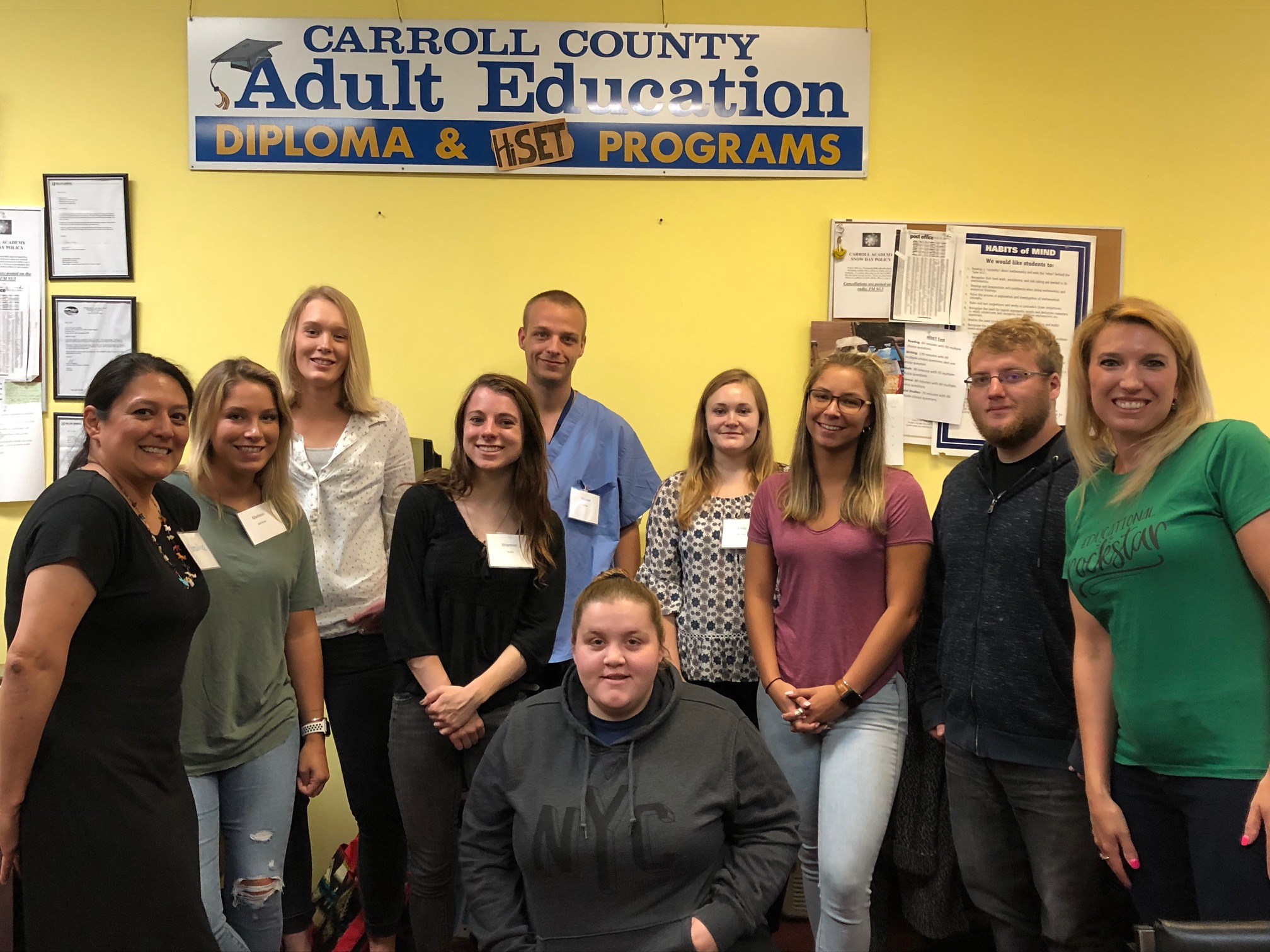 Young adults are stepping up to be the difference in the Carroll County Public Health region when it comes to raising awareness about mental health, substance use disorder and suicide prevention. On June 20th young adults ranging in age from 18-25 from across the region gathered in Tamworth and completed the Young Adult Leaders in Prevention CONNECT™ Training presented by the National Alliance for Mental Illness-New Hampshire (NAMI-NH) in partnership with Carroll County Coalition for Public Health (C3PH), an initiative of Granite United Way and Carroll Academy / Carroll County Adult Education. They represented recent graduates in social work and psychology, first responders, recovery support workers, persons in recovery, young parents and staff from local family resource centers, public schools and community hospitals across the Mount Washington Valley, Ossipee Valley and Lakes Region.
"We were very glad to partner with C3PH and NAMI-NH to bring this important training opportunity to young adults in Carroll County." said Crystal Sawyer, Director of Carroll Academy.
"The goals of the training were for participants to return to their communities as young adult leaders able to recognize risk factors, protective factors and warning signs for addiction and suicide. Also, the training prepared these young adult leaders to be more comfortable in knowing how to Connect™ peers at risk with helpful resources in their community." said Connect™ Trainer Kaelea Monahan, herself a young adult and community health worker at Dartmouth-Hitchcock Medical Center in Lebanon, NH.
In the United States each year, there are over 45,000 confirmed suicide deaths, and there are over 60,000 accidental drug overdoses, for all ages.
"The training was informative in regards to the scope of suicide and substance abuse in New Hampshire and provided the tools and resources to help combat these issues on a peer to peer level. I attended the training to become further aware of the resources available to residents of Carroll County! " said Emily Robinson, Connect ™ Trainee, Moultonborough School District.
"Every county in NH has experienced these tragedies.The goal of this joint effort of public health networks across the state, with funding from the Partnership for Success Grant, is to train and engage young adults in NH to raise awareness and support prevention activities in their communities." stated Catalina Kirsch, Young Adult Strategies Coordinator for C3PH. "The day was a big success thanks to the recruiting support of our community partners at Children Unlimited, Moultonborough Academy, Governor Wentworth School District, Memorial Hospital, White Horse Addiction Center and Carroll Academy."
Connect™ trainees learned about safe language and how the words we use when talking about death by suicide or about addiction can make a difference. "We learned about 'person-first' language like not using the word 'addict' but talking, rather, about a 'person with a substance use disorder' because that shows that everyone is a person first and not defined just by a health condition like addiction. We learned to talk about 'death by suicide' rather than saying 'committed suicide' because those words imply that suicide is a crime. By using safe language, we can help eliminate the misunderstanding and stigma around addiction and suicide that prevent people from speaking up and getting help" shared Kirsch. "It was inspiring to learn how simple things like using 'person-first language' can make a difference in prevention and recovery," said Shannon Nester, Connect™ Trainee, Emmanuel College '20, Intern, Memorial Hospital.
The group learned about risk factors that help us understand who might be at risk for addiction or suicide. These can include depression, misuse of alcohol or prescription medications, difficulty in school or work tasks, isolation in rural towns and long winters, access to firearms, and history of traumatic experiences. The training also covered protective factors, the things that help prevent addiction and suicide and other personal crises. Protective factors can include parental and family support, social connectedness, safe communities, support for cultural identity and a sense of hope in recovery. Trainees learned how to respond to a person facing a crisis, questions to ask and strategies to connect them to help and offer hope.
"A significant piece of what our trainees learn is about offering hope and letting people know recovery is possible, that they are not alone, people care, and help is available" said Ann Duckless, of NAMI-NH Connect Program.
During the last part of the training day, participants learned some tips on how to give a NAMI-NH Connect™ Training in their community and were given a chance to practice their new knowledge and skills. All trainees receive a Trainer Certificate from NAMI-NH and become part of a statewide resource list of Connect™ trainers who are prepared to deliver presentations to help raise awareness and serve as young adult leaders in prevention of addiction and suicide in NH, with continued support from NAMI-NH and Carroll County Coalition for Public Health. "The training helped me to better understand the role I can play in helping my community. I loved the sense of bringing people of all different backgrounds together for the common goal of prevention and ultimately saving lives," concluded Nester.
For more information on the Young Adult Leaders in Prevention program and more local efforts in prevention of substance misuse and prevention of suicide, contact Catalina Kirsch at (603) 301-1252.
Return to news