WellSense Joins Local Partners to Ensure Shelter and Services for Manchester's Unhoused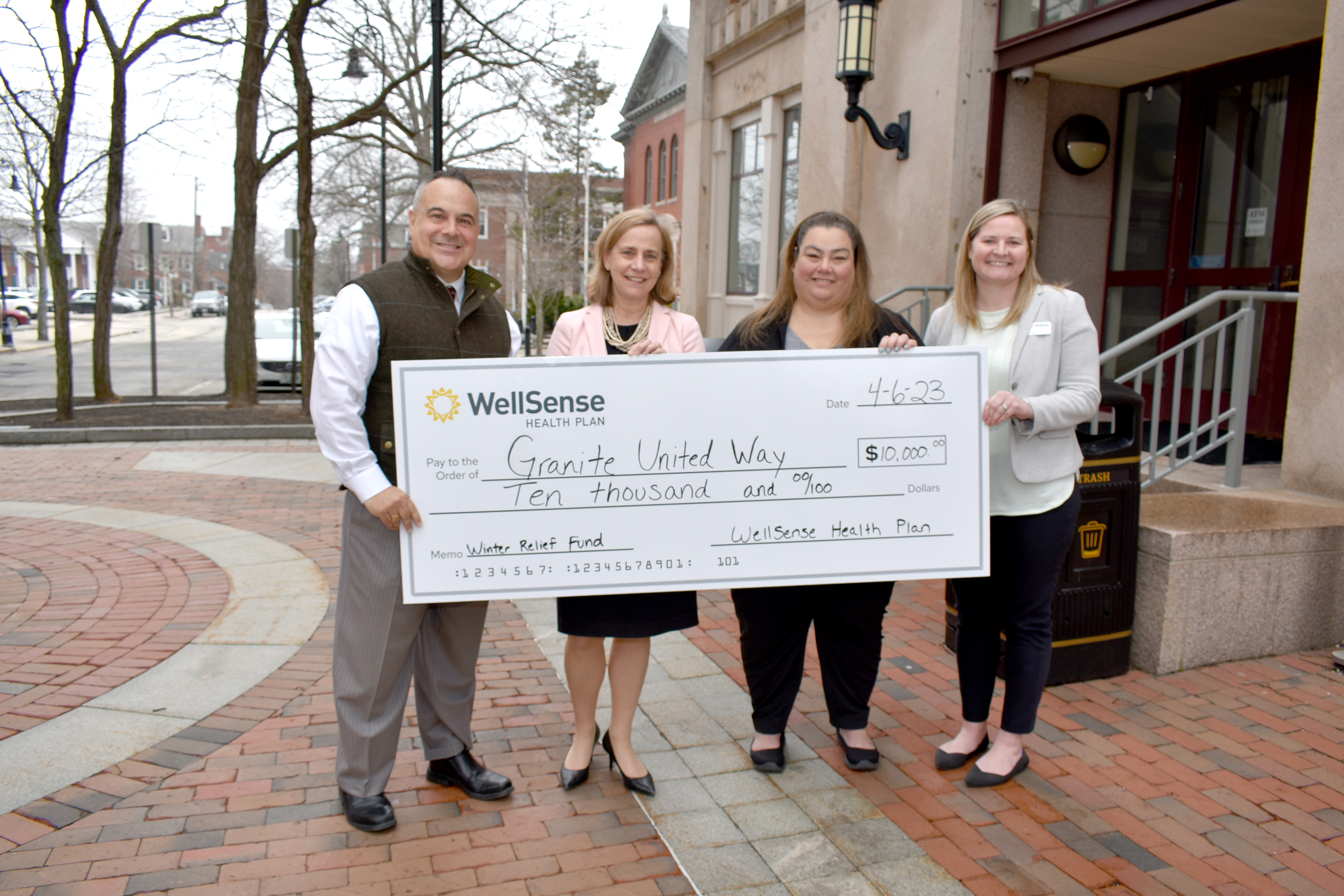 In the photo – L-R: Patrick Tufts, President and CEO of Granite United Way, Mayor Joyce Craig, Alyson Christian, Executive Director WellSense Health Plan and Caitlin Howard, Community Engagement Program Director at WellSense Health Plan.
WellSense Health Plan joined local partners this year to ensure shelter and services for unhoused individuals in Manchester. Their donation of $10,000 to the Manchester Winter Relief Fund helped provide shelter for those seeking it during the colder months.
These services are needed all year long for those who experience housing issues, but the need becomes especially urgent during the cold winter months. This year, the City of Manchester partnered with Granite United Way and several other supportive organizations like WellSense Health Plan to provide solutions to these urgent needs.
"As a Medicaid health plan, we recognize the challenges that many NH residents face and housing shouldn't be one of them. Our WellSense staff is dedicated to reducing barriers for our members and by partnering with organizations like Granite United Way on these important initiatives, we can help accomplish that." Alyson Christian, Executive Director WellSense Health Plan.
Mayor Joyce Craig thanked the organization for stepping up to help those throughout the City.
"Thank you to WellSense for this generous contribution to help us meet the needs of individuals experiencing homelessness. It takes an all-hands-on-deck approach to address these complex issues, and I appreciate their commitment to our community," said Mayor Joyce Craig.
"Issues like housing needs require many organizations to work together to see results. WellSense Health Plan is one of those we were able to count on," said Patrick Tufts. "Their gift shows their collaborative spirit and willingness to help others."
Those wishing to contribute to the effort can do so in a number of ways:
1. Text WINTERMHT to 41444 to make a donation.
2. Visit www.graniteuw.org to make an online donation.
3. Mail checks made payable to: Granite United Way, 22 Concord Street, Floor 4, Manchester, NH 03101 with Manchester Winter Relief Fund in the memo.
Partners in the Manchester Winter Relief Fund effort include: City of Manchester, Manchester Fire Department, Manchester Police Department, YWCA New Hampshire, Manchester Health Department, Mental Health Center of Greater Manchester, 211 NH, Granite United Way, NH Food Bank, American Medical Response, Aramark, WellSense Health Plan, AmeriHealth Caritas, and the Manchester Transit Authority.
Return to news