Warm Coats During Cold Weather Snap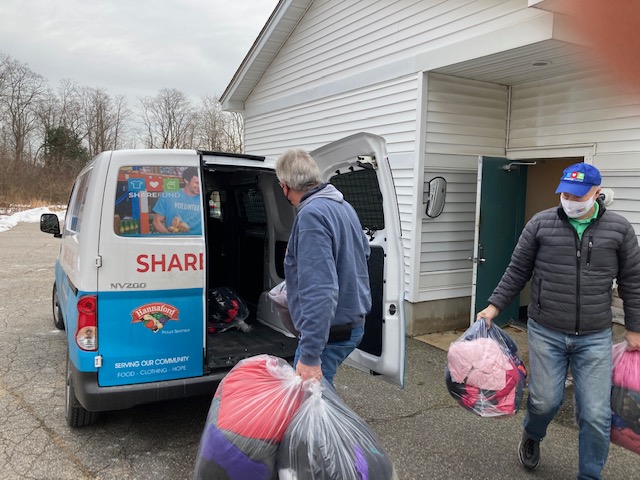 With temperatures hitting bitter lows, we all recognize the importance of a warm coat. Hundreds of individuals and children across the Greater Seacoast Region are facing the cold weather in a warm winter coat this year thanks to a partnership between iHeartMedia, Cleary Cleaners, Holy Rosary Credit Union (HRCU) and Granite United Way.
This marks the 9th year the iHeartMedia radio stations have hosted the Coats for Kids drive in an effort to distribute coats for children and families during the winter months. They partnered with Cleary Cleaners, HRCU and Granite United Way to warm up the season for hundreds across the Greater Seacoast Region.
The NH iHeartMedia radio stations encouraged donation of new or gently used coats, which could be dropped off at any of the 13 Cleary Cleaners location across the state. Collection boxes were also set up at the credit union branches. Once collected, the coats were dry cleaned by Cleary Cleaners and distributed to Granite United Way nonprofit partners.
"So many families across our communities are struggling right now, and this coat drive demonstrates exactly the way we come together to strengthen individuals and families," said Patrick Tufts, President and CEO of Granite United Way. "We are incredibly grateful to iHeartMedia, Cleary Cleaners and Holy Rosary Credit Union for making this happen during a busy time."
"Not only have we seen such inspiring commitment from our partners, but the community members who stepped up and donated coats," said Linda Lorrey, Director of Individual Engagement for Granite United Way's Greater Seacoast Region. "Working with our local nonprofit partners we were able to distribute over 500 coats thanks to this effort. Each of them acknowledged that this would be a welcome resource for many of those they serve."
Two of those nonprofits included SHARE Fund Inc. in Rochester, and Community Action Partnership of Strafford County in Dover.
"Thanks to the generosity of our friends at iHeart Media, Cleary Cleaners, and HRCU we are able to distribute coats to many of our neighbors in need – right as we are hit with this cold weather snap! Thanks to all for helping to share your resources with others." remarked Skip Smith, Executive Director of SHARE Fund Inc.

"This donation will make a tremendous difference in the lives of the individuals and families we serve at Community Action Partnership of Strafford County. We distributed the coats to children and families served through our Head Start, Child Care, and Family Resource Programs in addition to our unsheltered clients served at the Warming Center of Strafford County," said Melissa Spil, MSW, Chief Advancement Officer at Community Action Partnership of Strafford County. "It has been especially cold over the past several weeks, and it will be months before the cold lets up. This donation of winter coats will help to keep our community safe and warm through the remaining winter months."
Tim Moore, Senior Vice President of iHeartMedia Portsmouth, coordinated the annual drive, cheerfully greeting nonprofit teams as they picked up the coats.
"Every year, we are both gratified and astounded by the generosity of our listeners! So many kids and young adults will be warm this season thanks to them. This simply could not be done without Cleary Cleaners, HRCU and Granite United Way." said Moore. "We're grateful for their partnership and commitment to making a difference in our community!"
Granite United Way aligned with the Greater Seacoast Region on January 1, 2022, and is dedicated to strengthening the region. Thank you to iHeartRadio listeners and those in the community who donated coats this year.
Return to news