Showing our Appreciation for the Front-Line Workers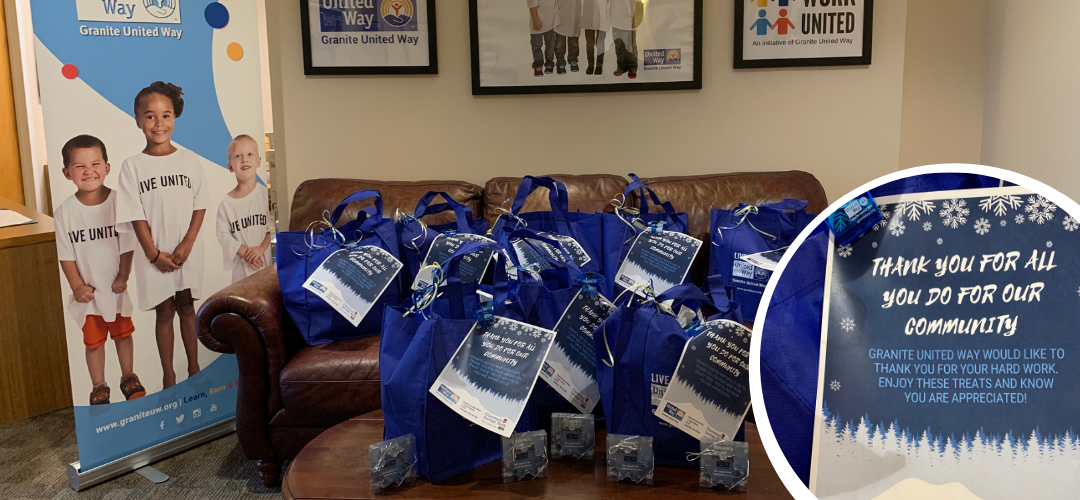 During the pandemic, some of our neighbors did not have the option to work from home as so many did. These dedicated professionals showed up every day on the front lines to ensure our community's businesses and healthcare facilities continued to function at full capacity.
Granite United Way recognized this dedication and wanted to show the front-line workers in our communities just how thankful we are for them. In a time when many businesses and organizations were closed to the public due to COVID-19 restrictions, it needed to be a safe and healthy way to connect with our partners and their staff. With a generous donation from Claremont Savings Bank, Granite United Way's Stock the Breakroom project was launched.
Our Upper Valley team packaged breakroom bags including food, lotions, ChapStick, and other self-care items and distributed them to eight nonprofits across the region.
"We know a lot of the nonprofits in the Upper Valley worked hard, long hours while understaffed during the pandemic," said Katie Berndsen, Program Coordinator of the Upper Valley. "We just wanted to do something to show them how much we appreciate them."
Our Northern Region also participated in the Stock the Breakroom project, delivering breakroom bags to Androscoggin Valley Hospital staff.
"It was important to all of us at Granite United Way to support the frontline workers because they went above and beyond during the pandemic," said Laura Boucher, Regional Manager of the Northern Region. "Androscoggin Valley Hospital has been a large supporter of Granite United Way and we took this opportunity to show our appreciation."
Linda Morris, Volunteer Service Coordinator at Androscoggin Valley Hospital, was overjoyed when she met with Laura to collect the packages. She was able to stock the breakrooms of the Hospital's Intensive Care, Emergency Room, Infection Control, Surgical, and Respiratory Units.
"Our employees were ecstatic when they saw what Granite United Way put together for them," said Morris. "During the first year of the pandemic, our hospital received a lot of donations from the community. At the time when Laura brought us the Stock the Breakroom packages, we hadn't received anything for a while. When they saw the packages, many people expressed to me how thankful they were and that they felt appreciated."
Granite United Way's Stock the Breakroom project was a small way to show our appreciation to our local frontline workers and to do our part in ensuring our communities are healthy and safe. As we continue to weed through the lasting impacts of the COVID-19 pandemic we are working on expanding this program to local schools in support of our educators.