Empowering Employers to Provide Support for Employees Recovering from SUD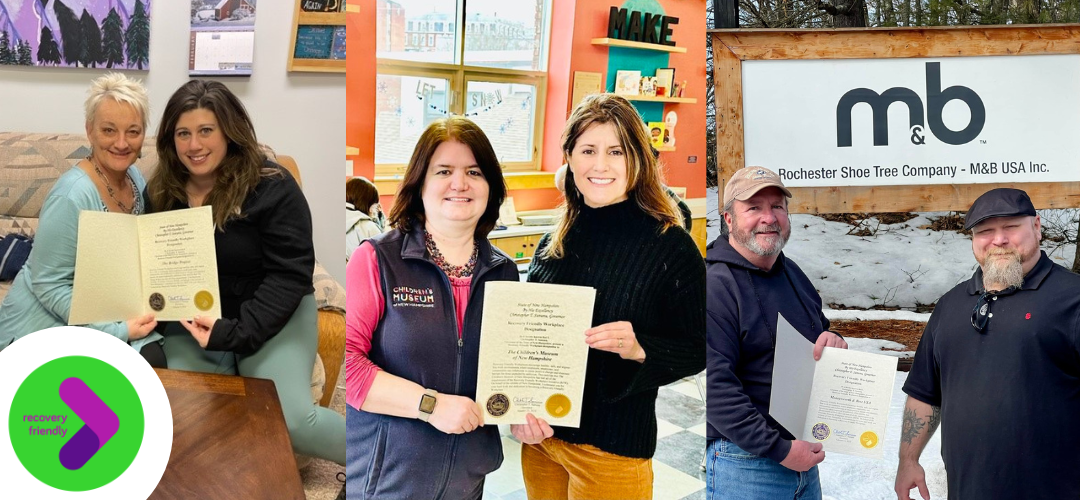 Throughout the Granite State, there are around 135,000 people in recovery from substance use disorder (SUD). It is estimated that untreated addiction costs New Hampshire's economy $2.36 Billion. 66% of that cost ($1.56 Billion) is incurred by businesses in the form of impaired productivity and absenteeism (PolEcon Research).
In an effort to promote individual, workplace, and community wellness and empower workplaces to provide support for people recovering from SUD, the Recovery Friendly Workplace (RFW) initiative was launched by Governor Chris Sununu in 2018 and is currently administered by Granite United Way.
"Inclusivity and community are the foundational values of Recovery Friendly Workplace," said Sam Lewandowski, Director of the Recovery Friendly Workplace initiative. "Recovery Friendly Workplaces challenge the stigma of substance use disorder and empower employers to better support employees who are in recovery, not yet in recovery, and their loved ones."
When a business approaches RFW with concern for an employee, they are connected to a Recovery Friendly Advisor (RFA) who will walk them through a structured checklist process to develop a Recovery Friendly culture and connect them to the tools and resources they need.
RFWs support both the recovery community and the businesses that they are employed by. They encourage a healthy and safe environment where employers, employees, and communities can collaborate to create positive change and eliminate barriers for those impacted by SUD. RFW is diligent in offering services that are tailored to each business' needs so that they can be implemented efficiently.
"Becoming a Recovery Friendly Workplace is easy. Employers can select the "Join Now" tab on recoveryfriendlyworkplace.com, where they will be prompted to fill out a letter of interest, which is just a quick questionnaire asking for basic information," says Lewandowski. "Any business in the state of New Hampshire is eligible to participate in the initiative."
RFW also includes training opportunities and panel discussions for businesses to take part in, at no cost, throughout the year. These trainings can be tailored to a specific topic or audience but generally include topics like: understanding substance use disorder & stigma, why the workforce needs people in recovery, how to access recovery resources in NH, proven results of Recovery Friendly Workplaces, family supports, self-care and compassion fatigue, how to have a supportive conversation around SUD, and saving a life with Narcan.
During the COVID-19 public health crisis, federal funding became available for the state of New Hampshire to support health-related initiatives. In collaboration with the Governor's Office for Emergency Relief and Recovery (GOFERR), Granite United Way was able to secure funding from the American Rescue Plan Act (ARPA) to offer additional RFW supports.
Of the $1,000,000 granted, over $600,000 was awarded to community-based organizations to expand local employers' access to peer recovery supports. This allowed businesses to more easily connect their employees to recovery resources and provide better support in the workplace.
"We recognized the need to be able to connect local resources to Recovery Friendly Workplaces so their employees can have access to recovery support meetings, coaches, and peer support," said Shannon Swett, Granite United Way's Vice President of Public Health.
These additional federal funds expand the capacity of the Recovery Friendly Workplace initiative to offer "peer-based connections", which connect employers and employees to peers who are in a similar field and/or have navigated similar situations. Peer support ensures that employers and impacted employees have options when seeking help and guidance.
The remainder of this federal funding has been designated to support the development of additional Recovery Friendly trainings, assets, and marketing/communication efforts. For example, RFW will be launching a community platform that will allow employers to communicate with one another, ask questions, and access resources and trainings.
RFW aligns with Granite United Way's mission to improve the quality of people's lives by bringing together the caring powers of communities. By supporting businesses and employees impacted by SUD, RFW strengthens our entire community.
"A really cool thing about being administered by Granite United Way is that they have really strong community connections, and we're able to leverage those in many different ways," said Lewandowski. "It proves that when people come together, the ability to better support the community grows."
For more information about Recovery Friendly Workplace, visit recoveryfriendlyworkplace.com.
Return to news