BJ's and Hypertherm Step Up to Keep the Community Safe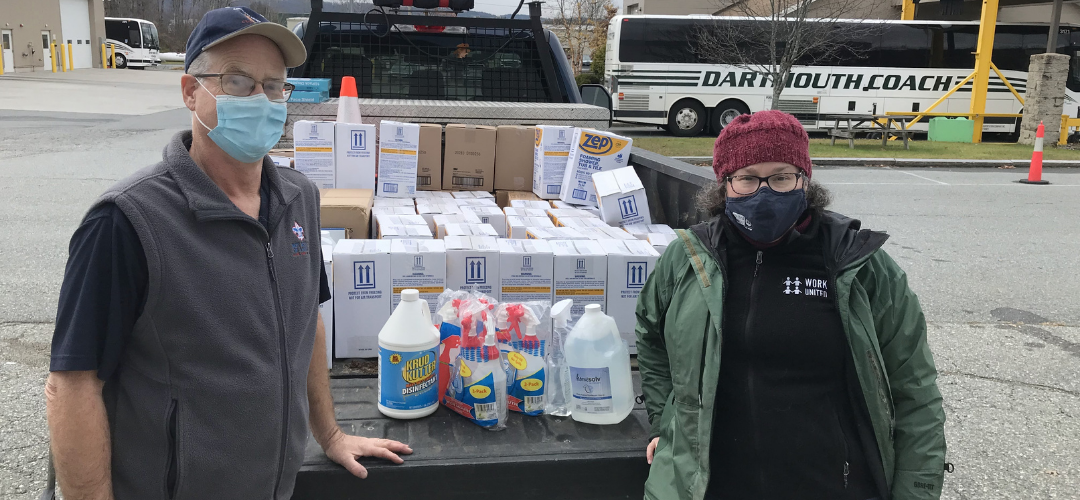 For most of us, the term "PPE" was completely foreign before March of 2020. Now PPE - or Personal Protective Equipment – has become a household word. Ask any teacher, healthcare provider, or service industry worker and they'll tell you all about PPE's. The masks, gowns, shields, hand sanitizer, and surface cleansers have a new place in our hearts since the start of the pandemic.
Unfortunately, all the things we did to stay safe came at a cost. For nonprofits, it was a hefty cost. Many organizations closed their office doors and went fully remote during the pandemic. Others that provided direct services needed to stay open to provide necessary care for their clients. Childcare centers, for example, needed to have endless supplies of masks available for workers and the children in their care – not to mention gallons of spray cleaner and hand sanitizer. It was an unexpected expense and with supply chain delays it was often hard to get the supplies they needed.
In November United Way Worldwide joined forces with BJ's Wholesale Stores to bring PPE supplies to agencies in need across the country. Granite United Way jumped in to help in the Upper Valley and provided supplies to twelve agencies including the Early Care and Education Association that distributed supplies to childcare centers across the region. Donations from BJ's included face shields, disinfectant sprays, plastic spray bottles, and hand sanitizer. The item in greatest demand were the 126 automatic hand sanitizer dispensers that ultimately found a home at childcare centers to keep little hands clean.
The project involved a lot of logistics in a short period of time and who better to help with this than our friends at Hypertherm. They were there at every stage –providing a truck to pick up pallets at BJ's, reserving storage space for goods, and finding eager volunteers to help with the final distribution. Without them, the project would never have gotten off the ground. In the span of just three hours, our Hypertherm heroes distributed goods from five pallets. (That's about 500 units of supplies!)
As with any project, volunteers did more than just provide labor. They were there to engage with the community. "It was great to hear from the folks who came to pick up supplies," said Elizabeth Craib, Director of Community Impact in Granite United Way's Upper Valley Region. "Each agency receiving a donation had a story to tell about their pandemic experience and how they have maintained service to the community through it all. It was a surprisingly moving experience for all involved."
The Boy Scouts of America, Daniel Webster Council sent Steve Hambleton, Camp Carpenter Ranger, Camp Carpenter Ranger, to pick up supplies to use at their five campsite locations in New Hampshire. When he learned that we had extra boxes of tile cleaner that needed a home, he was delighted to take them. With summer camping season coming up the supplies will surely be put to very good use!
It is heartening to see a community come together to get a job done. Many thanks go out to the volunteers at Hypertherm, the generous folks at BJ's Wholesale, and, of course, the hard-working nonprofits who get the job done day after day. Armed with sanitizing spray, they are ready to take on just about anything!