Whole Village Family Resource Center Celebrates 20 Years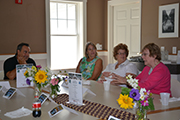 Whole Village Family Resource Center, an initiative of Granite United Way, celebrates 20 years of community support this year.
On Thursday, August 11, 2016 the team hosted a supporter luncheon where one of Whole Village's clients, Crytal Cutting, shared her personal journey and thanked supporters for ensuring that those services were there when she needed them. Later that afternoon, the team hosted a community-wide ice cream social near the facility's community garden.
Thank you to everyone who attended the events and for their continued support of the critical services being offered at Whole Village. The initiative continues to serve as a model of collaboration and currently houses 13 different nonprofit organizations that provide everything from high quality child care, nutrition services, job placement and many other supportive services.
To view photos from our celebration event, click here.