The Upper Valley Works Together to Help Neighbors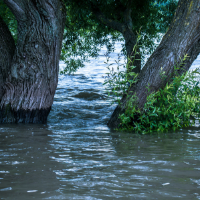 There are examples of communities coming together across New Hampshire and Vermont every day. But this spirit of community is even greater when there is an emergency or natural crisis.
One of the prime examples of this can be found in our Upper Valley region. In August of 2011, Hurricane Irene tore through the area leaving nearly every lake and stream flooded. Extensive damage occurred, but one thing that never wavered was the resilient spirit of the community that came together to rebuild, as a result creating a coalition known as Upper Valley Strong.

In the summer of 2017, heavy rainfall flooded the region once again. Roads washed out, making transportation difficult. The community came together, even in some instances the same homes that had been affected by Irene were battered again.
Cover Home Repair was one of the organizations heavily involved in the restoration efforts following these crises. Volunteers helped with flooded cellars, mud, and a significant number of repairs to local homes.
"We all recognize that we need as a community to have the ability to organize a large number of volunteers – you never know when the next disaster is going to strike," said Bill Neukomm, Executive Director of Cover Home Repair. "Communication is often one of our greatest challenges. Many times, communication lines are down, the internet is unavailable. That is when communities start working together to keep things moving."
Neukomm acknowledges that the needs are always there, regardless of whether it's a national news story or not.
"It's like a mini Irene going on every week/month in NH and Vermont, there are always families in some level of crisis – just because it isn't national news, it's still happening. A lot of people we are helping are off the beaten path." Said Neukomm. "Granite United Way has stepped up to the plate when we have needed them."
Sara Kobylenski, Executive Director of the Upper Valley Haven, and her staff see these crises every day in their work.
"Community natural disaster coordinated responses are just one of the ways we work together in the Upper Valley. Another example is the way Granite United Way convened several organizations together to bring a financial coach as a resource courtesy from the Consumer Finance Protection Bureau (CFPB). We have been fortunate to have this resource in our community, and we are working together to keep the services available," Said Kobylenski. "None of us could be doing this work alone. These are great examples of working together to leverage community resources."