How you can help those affected by the recent hurricanes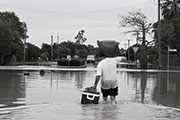 To make a donation to the United Way Hurricane Recovery Fund click here.
Granite United Way continues to work with United Ways across the country to encourage individuals to give directly to the United Way Worldwide established Hurricane Recovery Fund that will help local United Ways meet the storm-related needs and support long-term recovery throughout the affected regions.
"There are many concerned residents of our state who want to help right now," said Patrick Tufts, President and CEO of Granite United Way. "We encourage those who would like to help now to support the official United Way Recovery Funds."
For the most up to date information on all the ways you can help, click here.
Governor Sununu Announces New Hampshire's Response to Help Puerto Rico
Governor Chris Sununu announced that his office, in coordination with New Hampshire Emergency Management, will accept in-kind donations for victims of the developing humanitarian crisis caused by Hurricanes Irma and Maria in Puerto Rico.
On October 3rd and 4th from 7:00 AM to 6:00 PM, Granite Staters can drop off bottled water and non-perishable foods at the State House lawn to help fulfill the needs of the residents of Puerto Rico.
Only dated and non-expired bottled water and non-perishable food items can be accepted. The following items are best:
• Bottled water
• Ready-to-eat canned meats, fruits, vegetables
• Can openers
• Protein or fruit bars
• Dry cereal or granola
• Peanut butter
• Dried fruit
• Canned juices
• Non-perishable pasteurized milk
• High energy foods
• Food for infants
• Comfort/stress foods
For further information, please call 2-1-1, New Hampshire's statewide, comprehensive, information and referral service operated by Granite United Way.