Wells Fargo Investment in Reading Plus Provides Support to Manchester Middle School Students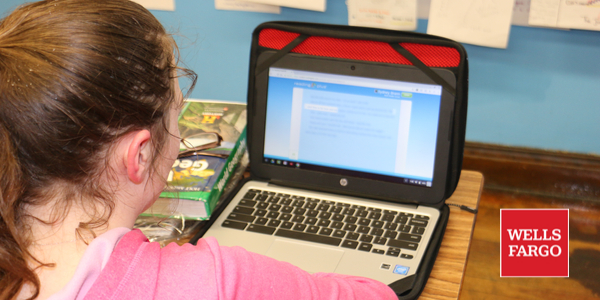 Students and teachers in Manchester's middle schools have a new champion in their corner when it comes to advancing literacy.

The Wells Fargo Foundation has donated $105,000 to the Granite United Way to bring Reading Plus to all students at Hillside, McLaughlin, and Southside Middle Schools. Reading Plus is an innovative, web-based silent reading program that is designed to improve efficiency, comprehension and motivation in readers from third grade to adulthood, identifying the elements of reading that are hindering reading fluency and comprehension development. Through this grant, the Reading Plus program, which is aligned to the Manchester Academic Standards, will impact more than 2,300 students each year.

Two years ago, the Cogswell Benevolent Trust partnered with Granite United Way to bring Reading Plus to Parkside Middle School, helping all 600 students better their reading skills with more than 200 improving two grade levels within the first academic year. Research indicates students living in financial instability are significantly more likely to be off-track in reading by fourth grade when compared with their financially stable peers, a gap that grows as students age. In the City of Manchester, 55% of students at the three middle schools impacted by this investment qualify for complimentary or reduced cost lunch, an indication of family financial instability.
"The importance of literacy skills cannot be overstated and they are some of the strongest predictors of on-time high school graduation and college completion, two factors that ensure Manchester has a successful future work force and healthy economy," said Briana Curran, Wells Fargo's New England community relations and communications vice president. "When Wells Fargo learned of the progress made at Parkside, the decision to support the expansion of Reading Plus to the City's other three middle schools was an easy one that also enables the Granite United Way to grow its existing commitment to local youth."
Administrators and teachers in the district are excited to provide this learning tool to students, as it is available anywhere a student has internet access, including their homes. Through the program, the tool will be available to students in after-school and summer programs, including the Granite YMCA's Power Scholars program that addresses the significant summer learning gaps present in Manchester. Adding this critical reading intervention will help all partners have access to a universal program advancing students' reading.
"Reading Plus gives teachers another avenue to challenge students in their classrooms, as each lesson builds a reader's skills and addresses their weaknesses," said Bill Krantz, principal of McLaughlin Middle School. "We are thrilled that Wells Fargo and Granite United Way have given us this opportunity to help our kids advance their literacy."
Teachers and administrators have begun learning about how to use the program, and classroom implementation will launch later this fall. "Manchester's schools are filled with great educators and great kids," said Patrick Tufts, president and CEO of Granite United Way. "We are excited to partner with Wells Fargo to create opportunities for students and teachers, and we look forward to watching this investment change lives."
Wells Fargo's generous contribution to Manchester's youth leverages other significant investments made by Granite United Way and the business community to support teachers and students in classrooms and after-school programs across the City. This includes recent investments in the Youth Enrichment Partnership and the Leader in Me program on Manchester's Westside.
To learn more about Granite United Way's work to enrich the lives of Manchester's youth, please contact Aimee Kereage at Aimee.Kereage@graniteuw.org.