The Youth Enrichment Partnership: The Impact of Our Partners and Donors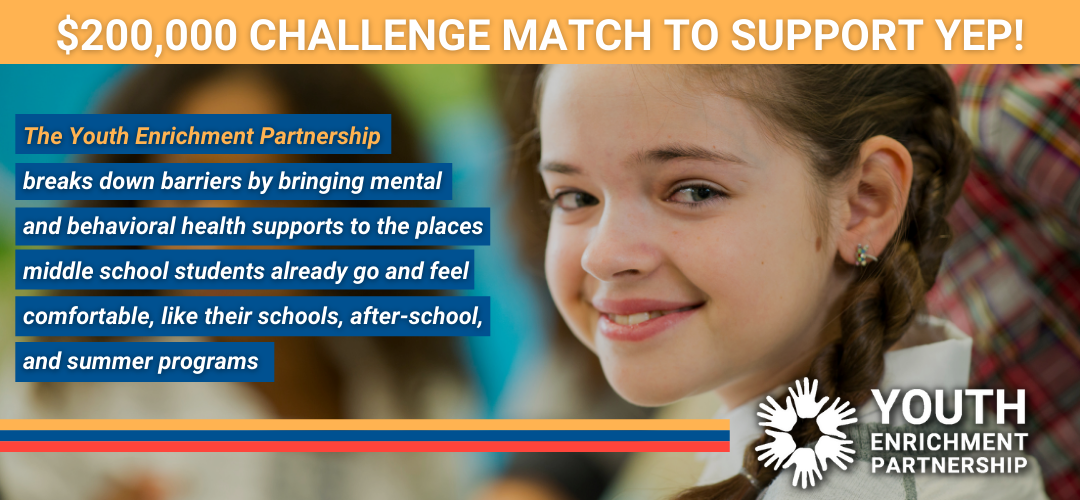 Summer vacation is coming to an end and the new school year is right around the corner. No matter the age, this is an exciting yet stressful time of year. On top of the anxiety of getting ready to go back to school, many of Manchester's youth face additional hardships such as poverty, substance use exposure, gang influence, and crime.

The Youth Enrichment Partnership (YEP) makes services and resources easily accessible to Manchester's youth by bringing them to the places they know best- their schools, after-school centers, and summer programs. Academic support, mental health services, and enrichment opportunities are being brought to youth and providing unique experiences for many of them. This work wouldn't be made possible without the engagement from the community of partners and support from donors.

When Title Services heard about Granite United Way's fundraising efforts for YEP, they knew they had to get involved.

"Most inspiring about this partnership is the variety of organizations that will receive funding to deliver opportunities and provide access to programs that the children of our community might not have otherwise had available to them," says Sarah Kerr of Summit Title Services.

For FEEDNH.ORG, supporting YEP was an opportunity that they could not pass up. They immediately recognized the impact YEP will have on many of the nonprofits they provide services to.

"FEEDNH.org was thrilled to support the Granite United Way's Youth Enrichment Program! Being the charitable trust for Great NH Restaurants, a NH-based restaurant group, we value the importance of raising physically, mentally, and emotionally healthy youth who will grow to impact the continued health and strength of our local communities", says Lisa Allen, FEEDNH.org Board Chair.

Barry Brensinger, the founder of Lavallee Brensinger and Manchester Proud's Coordinator, has had the opportunity to work directly with a number of youths in Manchester's schools. Seeing head-on the struggles many Manchester students face, Brensinger chose to give a corporate gift to YEP.

"I choose to give to the Youth Enrichment Partnership because I know they will ensure that this essential work in our community is coordinated for maximum impact. That is the power of the Youth Enrichment Partnership."

The partnership between Manchester Proud and YEP came naturally since the members of both organizations have worked to support each other in several projects in the past.

"The missions of Manchester Proud and the Youth Enrichment Partnership are directly aligned," explained Brensinger. "We both want for every child of Manchester to have the supports and opportunities they need to both thrive in our schools and eventually graduate into happy and productive adults."

Along with the large corporate donations that help YEP provide these essential services and resources to youth, the Youth Enrichment Partnership also relies on donations from community members through fundraising efforts. During Granite United Way's Over the Edge event, six community members joined the team and repelled down the Brady Sullivan building, all raising funds for a variety of community organizations including YEP.

Sarah Grosvenor of UNH STEM Discovery Lab was one of the "Edgers" that day and donated her funds raised to YEP. The Discovery Lab works to engage with the Manchester community to provide STEM education access and opportunities to volunteers, educators, and youth. Due to the pandemic, the Discovery Lab was having a difficult time getting the word out about their programs. Thanks to the partnership with YEP, they now provide their programming at the Manchester schools, after-school centers, and summer programs.

"Within this partnership, having collaborating opportunities and having a contact within the hubs around the city makes it easier for us and our families," explained Grosvenor. "I would post our program opportunities in the local newspapers and online but wouldn't have many kids signing up. Now that we're able to bring our programs where the students already go, it has allowed us to expand our reach."

Grosvenor shared that she chose to "go over the edge" because she believes that YEP has had an amazing impact on the partner organizations and the youth that they serve. She has been a part of the Discovery Lab for over three years and says, "I can't imagine going back to the way we used to work before YEP came along."

Along with fundraising efforts such as the Over the Edge event, Granite United Way announced this summer that there would be a challenge match for every dollar donated up to $200,000. As we are heading into September, we have raised over 93% of the Challenge Match goal.

Click here to learn more about the Youth Enrichment Partnership and the Challenge Match.