The Impact of Volunteering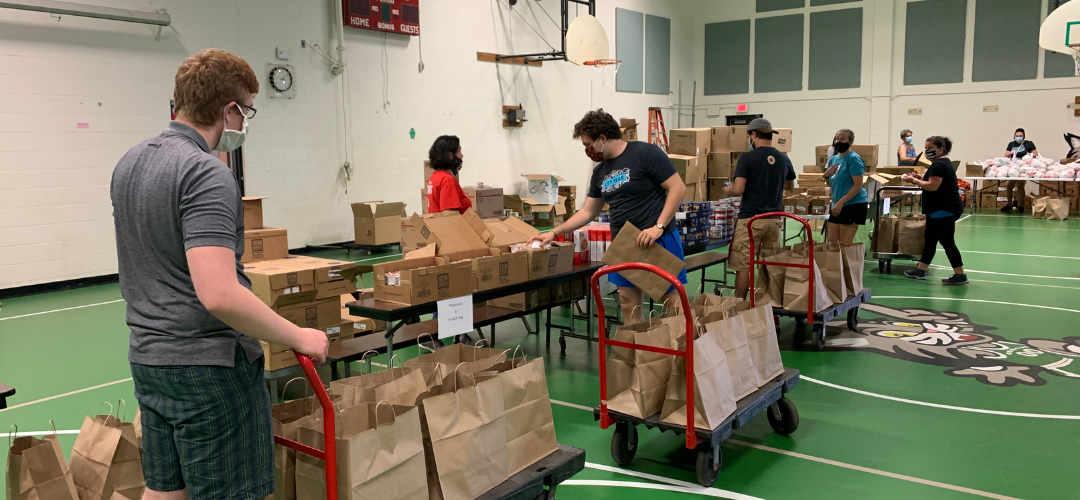 At Granite United Way, there are several parts of the organization that keeps us moving. These parts include staff, donors, partners within the community, and volunteers. Without these singular parts, Granite United Way would not be the organization it is today.
Volunteers play a huge role in the work that we do at Granite United Way. Take, for example, the Fuel our Families meal distribution events. With the help and support of the Granite United Way partners, this volunteer opportunity distributed over 177,000 pounds of nutritious food (almost 150,000 meals) to individuals and families in need.
Granite United Way's volunteers come from different parts of the state and all different professions. We are lucky to have an incredible group of individuals that make up Granite United Way's volunteer Community Impact Committees in every region. Not only do they help make critical funding decisions in our community they also raise their hand to participate in community volunteer opportunities like Fuel Our Families.
Thomas Lavoie, Account Executive at Optisure Risk Partners and member of Granite United Way's Southern Region Campaign Cabinet, was encouraged to give back to those struggling in his hometown of Manchester.
"The business community has always been there to respond to our needs. Some financially, others like myself, are more able to provide volunteer efforts," Lavoie said. "Now that the challenge is something as basic as food security the response is going to be big. Let's hope it continues to grow."
He explained that he was feeling particularly down during the pandemic and felt that he had to do something. "Getting out, safely, and contributing to those less fortunate, really helps me get positive in times when I can use some uplifting activities. Smiles beget smiles."
Thomas's fellow Southern Region Campaign Cabinet member, Dallas Lagerquist of Primary Bank, also chooses to volunteer at Fuel our Families.
"In the face of these unprecedented times, there are some that are struggling more than others. Those who are coasting along through all of this should take time to volunteer. There is so much need for assistance with various non-profits," Lagerquist explained. "As the saying goes, several hands make light work. Taking a few minutes a day to reach out to check in and ask how you can help will speak volumes to the receiver and you will be amazed how it will make you feel."
Granite United Way is extremely thankful for all of the volunteers that come out in times of need. Without you, we would not be able to do the work that we do.