NextEra Energy Hosts Golf Tournament to benefit Granite United Way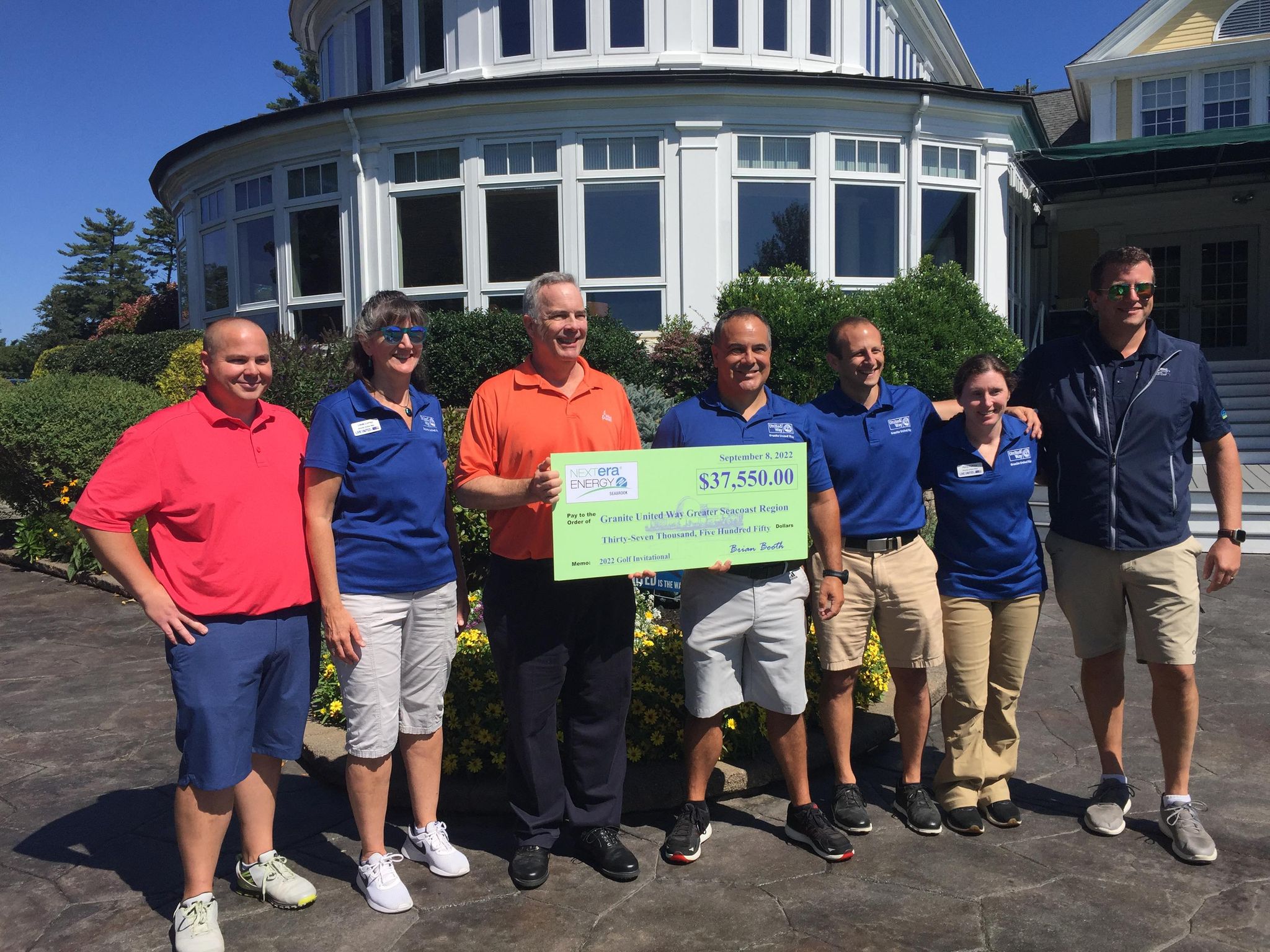 This year marked 32 years that the Seabrook Station Golf Tournament benefitted United Way in the Greater Seacoast Region. Held on September 8, 2022 at the Abenaqui Country Club in Rye, this year's field was full of excited golfers ready to compete for prizes and support the local community through Granite United Way. The tournament is organized by employees of NextEra Energy Seabrook, LLC, which is part of the NextEra Energy family of companies.
Immediately following the tournament, Patrick Tufts, President and CEO of Granite United Way, was thrilled to receive a check for $37,550 – their most successful tournament to date.
"The support our community receives from Seabrook Station is truly inspiring," said Patrick Tufts, President and CEO of Granite United Way. "They provide financial support to ensure critical programs are available to our neighbors, and their team is among our most active volunteers. They are always ready to step up and help out our community."
Off the golf course, the team at Seabrook Station has been actively supporting Granite United Way's efforts. This spring they sponsored the highly successful Community Baby Shower, which raised an additional $1,200 to purchase diapers. Both their sponsorship and diaper drive helped support over 250 young families in the Greater Seacoast Region. Seabrook employees also ran a parking space auction that raised over $4,200 to support K Ready Kids backpacks. This year, 1,000 backpacks were distributed to local kindergartners to help support the students' early childhood development.
Volunteerism is an important part of Seabrook Station's community giving. Most recently, they sponsored the Greater Seacoast Region's Day of Caring and provided 39 volunteers from the company to donate true "sweat equity" at five different Day of Caring projects in the Greater Seacoast Region.
"We're proud to work with Granite United Way to help make the Seacoast an even better place to live, work and raise a family," said Kyle Barry, Operations Director at Seabrook Station and active member of Granite United Way's local Community Impact Committee. "We know that when we work with United Way, our donations stay local, and if we can help community members learn, earn and be healthy, we support the needs of our entire community."
"Our longstanding relationship with NextEra Energy Seabrook continues to provide meaningful support of local nonprofits and many childhood and family focused initiatives," said Lauren Wool, Senior Area Director for Granite United Way's Greater Seacoast Region. "No one organization can solve community needs alone but working collaboratively results in helping so many of those who live and work in this community."
Return to news