Laurie Dionne: VITA volunteer as a model of perseverance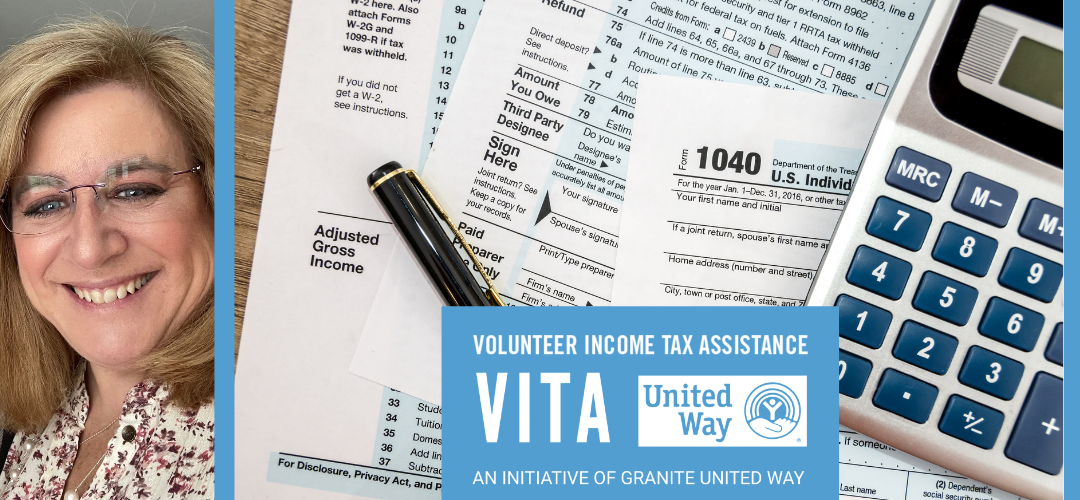 When Laurie Dionne started volunteering for Granite United Way's Volunteer Income Tax Assistance (VITA) program, she had no idea that the program—and the rest of society—would be disrupted by a pandemic.

"I volunteered because I like what I am doing with VITA and helping people in our community with their taxes," said Laurie, who responded to a request for volunteers from her employer, Citizens Bank.
Laurie completed training held at Laconia High School and was certified as a tax preparer for the 2020 filing season. Then the COVID-19 pandemic hit. In Laconia and throughout the country, VITA programs had to develop creative ways to get the job done of preparing and filing tax returns for low and moderate-income people.

With the aid of a local "essential" business, Vista Foods, taxpayers were able to pick up their tax information packets and then meet the Laconia tax team in the parking lot of the Lakes Region Family Resource Center for ad hoc intake sessions as the site switched to "Virtual VITA". Laurie and other volunteers completed the season working remotely.

As preparations were made for the 2021 filing season, the pandemic continued on and so did Virtual VITA precautions. These included adhering to CDC "close contact" guidelines of face-to-face conversations less than six feet away, masked up and of no more than 10 minutes.

"We didn't want to have people speaking loudly about personal finances from more than six feet, so we overlayed the CDC health and safety guidelines on top of IRS Quality standards for confidentiality to continue our work," said Cary Gladstone, Senior Director of Asset Building Services, who oversees Granite United Way's VITA program.

Laurie took a spill on the ice during the winter that left her with a concussion and she was unable to work at Citizens Bank or volunteer for VITA. After several weeks, she announced to the VITA team that she was back and resumed volunteering at both the Laconia and Salem sites, all using remote technology. Shortly after getting back, her son developed COVID-19, and Laurie was then sidelined by coronavirus protocols while her son recovered.

Still, she persisted, returning to the VITA program a second time as a volunteer in the extended filing season.

"I really admire Laurie's perseverance," said Gladstone. "If she had chosen to sit out the rest of the tax season, no one would have blamed her for that." However, that was not in Laurie's nature.

"This experience makes me feel good about helping others with their taxes. Even without leaving my house during the pandemic, I feel like I am able to contribute to the community and help people get taxes filed without the stress on them especially during the COVID pandemic," said Laurie.
Click here to learn more about VITA.