Granite United Way Welcomes New Members to Board of Directors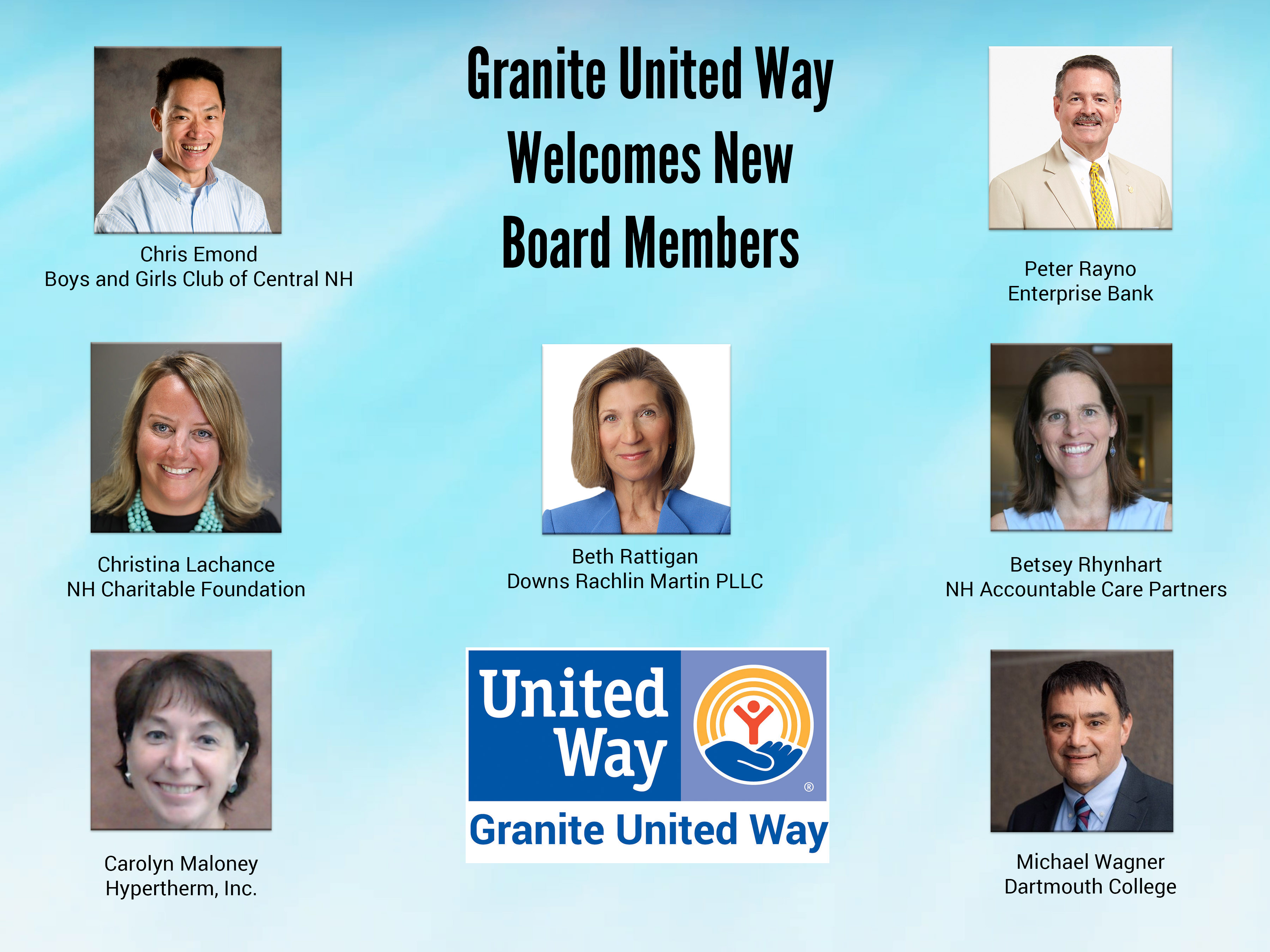 Granite United Way recently announced that Heather Staples Lavoie, President of Geneia, has been named Chair of Granite United Way's Board of Directors. She previously served as the Vice Chair and as Chair of the statewide Resource Development Committee for the organization. Sean Owen, President and CEO of wedu, held the Chair position for the 2018-2019 term. Tony Speller, Division Senior Vice President Operations/Engineering for Comcast has been named Vice Chair.
The organization also welcomes several new members to the Board of Directors including Chris Emond, Betsey Rhynhart, Peter Rayno, Christina LaChance, Elizabeth Rattigan, Carolyn Maloney and Michael Wagner.
Granite United Way is the single largest United Way in New Hampshire. It serves more than 80% of the state and Windsor County, Vermont. The organization has regional offices in Manchester, Lebanon, Concord, Laconia, Ossipee, Plymouth, Berlin and Littleton. Granite United Way is rated a Platinum Level Participant from GuideStar and a Four Star Charity by Charity Navigator, the highest possible ratings from these two nonprofit watchdog organizations.
In 2018 Granite United Way's volunteer Board of Directors initiated a refresh of its 2013 Strategic Plan, with the goal of growing the organization over the next five years.
"We are proud of the many ways we have achieved the goals outlined in our initial strategic plan, including exceeding our goal of raising $9 million during the 2018 campaign, reducing our donor designation fees to 5%, and focusing delivering impact at scale and at the local level," said Heather Staples Lavoie, Chair of Granite United Way's Board of Directors. "We continue to be growth-focused and are committed to a vision of Granite United Way raising $11 Million by 2023 and delivering $20 Million in annual impact."
"We are fortunate to have a strong Board of Directors leading our organization, and we are proud to welcome our newest members," said Patrick Tufts, President and CEO of Granite United Way. "We are excited to welcome Chris Emond, Peter Rayno, Christina Lachance, Carolyn Maloney, Beth Rattigan, Betsey Rhynhart, and Michael Wagner to our Board. Each of them brings a high level expertise from their industries."
The following individuals have been elected to Granite United Way's Board of Directors:
Chris Emond ~ CEO of Boys and Girls Club of Central NH
Chris joined the Boys & Girls Club in 2000 after serving as executive director of Big Brothers Big Sisters of Greater Manchester. Chris earned a Bachelor's of Arts in Psychology from Keene State College. He currently serves on the development committee for Granite United Way Merrimack County and the Advisory Board for NHTI. He has served in Rotary for 18 years and also volunteers as a Board Member for Concord Country Club. Chris currently resides in Epsom with his wife Jes and two children Julia and Sam.
"I am thrilled to be a part of such a wonderful organization. As the CEO of the Boys & Girls Clubs of Central my focus is relatively narrow. As a member of the board at Granite United Way, I feel this experience will provide me with a much broader picture of the needs of various communities on a Statewide basis," said Chris Emond.

Christina Lachance, ~ Director of Early Childhood and Family Initiatives at The New Hampshire Charitable Foundation
Christina serves as the Director of Early Childhood and Family Initiatives at the New Hampshire Charitable Foundation. Improving early childhood development and education and programs that support families and youth are critical components of the Foundation's New Hampshire Tomorrow initiative to increase youth opportunity. Christina is former Vice President of Children's Services and Oral Health Programs at Easter Seals New Hampshire. She has an advanced degree in education, has directed Head Start and Early Head Start programs, and has two decades of experience leading health and human services programs for children and families in New Hampshire, Maine, and Rhode Island.
"Service to the United Way is in my DNA. As a child, I attended United Way board meetings with my father, who volunteered and served as President of the United Way in our community. Following in his footsteps and joining Granite United Way's board at this pivotal time in our state is an honor." said Christina Lachance.
Carolyn Maloney ~ Treasurer at Hypertherm, Inc.
Carolyn has served as the Treasurer of Hypertherm, Inc in Hanover, New Hampshire since 2006. Prior to this role, she was the Controller of Hypertherm, Inc. Carolyn has also been the Vice Chair (currently) and Treasurer of the Board of Trustees for the Enfield Shaker Museum and has been an active contributor to the Twin Pines Housing Trust organization.
Carolyn has a Master's in Business Administration from Franklin Pierce University and attained her Bachelor's in Accounting from Bentley College in 1987. As Treasurer, she has been a key fiduciary to the Hypertherm, Inc Stock Ownership Plan. Other areas of focus include global banking, payroll, tax compliance / global legal setup and strategy, credit, and equity management. She has led or been an active contributor to many of the Hypertherm Global growth and financing projects.
"I am very excited about the opportunity to be on the United Way Board. This organization assesses the needs for NH and helps to make sure that these needs are met. With the changing demographics and technology, this assessment and the organization will change accordingly." said Carolyn Maloney.
Beth Rattigan ~ Employment Lawyer with Downs, Rachlin & Martin
Beth Rattigan is an employment lawyer with Downs, Rachlin & Martin PLLC and practices throughout Vermont and New Hampshire, defending employers in administrative, federal and state court matters such as wrongful discharge and discrimination claims. She also provides advice and training to management regarding employment law compliance and human resource issues including hiring, discipline, termination, reductions in force, wage and hour practices, investigations, sexual harassment, employee relations, employee training, personnel policies and employment agreements. Beth is a New Hampshire native, who now lives in Woodstock, VT. She works out of her firm's Lebanon, N.H. office.
"A community is only as strong as the people who live in it. As a resident of the Greater Upper Valley community, I am honored to be part of an organization that devotes itself to supporting our communities. The Upper Valley region is unique as a community defined by a river, rather than simply by political borders. The Upper Valley region of Granite United Way is similarly unique in effectively bringing resources together to help entities, programs and individuals in need on both sides of river." said Beth Rattigan.
Peter Rayno ~ Executive Vice President at Enterprise Bank
Peter is an Executive Vice President for the Bank and serves as Community Banking and Lending Director for the State of New Hampshire. He is responsible for leading lending and business development activities for Enterprise Bank throughout the State of New Hampshire as well as the Merrimack Valley area of Massachusetts. Additionally, he is responsible for direct management of a team of 25 commercial lending professionals assisting businesses, not-for-profit organizations and municipalities throughout his Region. Peter joined Enterprise Bank in 2004. Prior to his position with the Bank, he held various positions at Citizens Bank, formerly known as First NH Bank and Amoskeag Bank, for 15 years.
Peter Rayno is a graduate of Assumption College and holds a Master's in Business Administration with a Finance Concentration from the University of Massachusetts at Lowell. He is also graduate of the ABA Stonier Graduate School of Banking and received a Wharton Leadership Certificate from the Wharton School at the University of Pennsylvania. He has been involved with many nonprofits over the years and is a past Board Member of the Rockingham Economic Development Corporation, the Boys and Girls Club of Salem (past Treasurer and recipient of the President's Award), the Greater Salem Rotary Club (past President and Paul Harris Fellow) and the Greater Salem Chamber of Commerce (past Chairman of the Board). He currently serves as a member of the Board of Directors of PBS New Hampshire and at his alma mater, Central Catholic High School in Lawrence, Massachusetts. Mr. Rayno and his wife Wendy are residents of Hampton, NH, and have two children, Mary and William.
"I have always believed that there is an obligation for all members of the business community to give back to the communities in which we live and work. The United Way is a critical resource for marshalling the support of individuals and businesses to assist with these community needs, both financially and through volunteerism. As importantly, I have witnessed the remarkable job that the United Way does in identifying those organizations most in need of assistance. Since 2010 when so many local New Hampshire United Ways joined forces to create Granite United Way, I have been so impressed by the passion and commitment of everyone involved in Granite United Way, both staff and volunteers. To join this wonderful Organization in support of our New Hampshire neighbors is a true honor," said Peter Rayno.
Betsey Rhynhart ~ Executive Director of NH Accountable Care Partners
Betsey has served in various leadership roles over 25 years in healthcare management, public health and program development. She is currently the Executive Director of NH Accountable Care Partners, a not-for-profit organization based in Concord, and founded in 2012. NH Accountable Care Partners includes six participating health care systems located in New Hampshire, Mid-State Health Center, Concord Regional VNA and Riverbend Community Mental Health. In total, the ACO participating organizations coordinate the health care of more than 55,000 Medicare beneficiaries in our combined service area through participation in the Medicare Shared Savings Program. Betsey is also Vice President, Population Health at Concord Hospital. In this role, she leads the development and execution of Concord's Population Health strategy and works to collaborate across the Concord health system and the community to move the care-delivery model toward population health management and value based arrangements.
Betsey is a graduate of University of Vermont and holds a Master's in Public Health degree from Boston University School of Public Health. She is a Coaching Fellow in the IHI Change Agent Network (I-CAN), a member of UNH MPH Advisory Council and is actively involved in promoting health and wellness in her community as member of the Capital Area Public Health Executive Council, Board Officer for the Anticancer Lifestyle Foundation and through volunteer work and participation in the local trail and mountain running community.
'Having worked in healthcare for years, I recognize we will all need to work together to address the most pressing challenges our community must overcome to help create long-term, sustainable improvements in health and well-being. Granite United Way plays a key role in bringing communities together to solve problems, ensuring we use existing resources in our community and health care system to the greatest value.
I look forward to the opportunity to work closely with Granite United Way to advance their focused efforts in education, income and health throughout our region," said Betsey Rhynhart.
Michael Wagner ~ Chief Financial Officer at Dartmouth College
Michael leads Dartmouth's financial planning, budgeting, treasury, reporting, and operations activities while collaborating closely with the College's academic and administrative leaders on financial planning, organization, and policy matters.
He joined Dartmouth in 2001 and assumed his responsibilities as Vice President for Finance in 2010 after serving as Chief Financial Officer of the Geisel School of Medicine, and as Dartmouth's controller. He graduated from Amherst College with a Bachelor of Arts in economics and from Northeastern University with a Master's Degree in accounting. Before coming to Dartmouth, Wagner was a Senior Manager and CPA at PricewaterhouseCoopers LLP in Boston, serving clients in the education, health care, investment management, and insurance industry groups.
Michael lives in Hanover, NH with his wife, Laura Rice, and their three children.
"The notion that Granite United Way is working with people and organizations throughout New Hampshire and Windsor County, Vermont to 'improve lives by mobilizing the caring power of communities' strikes me as a really important way to make a positive impact." said Michael Wagner.