Generosity Abounds Through the Pandemic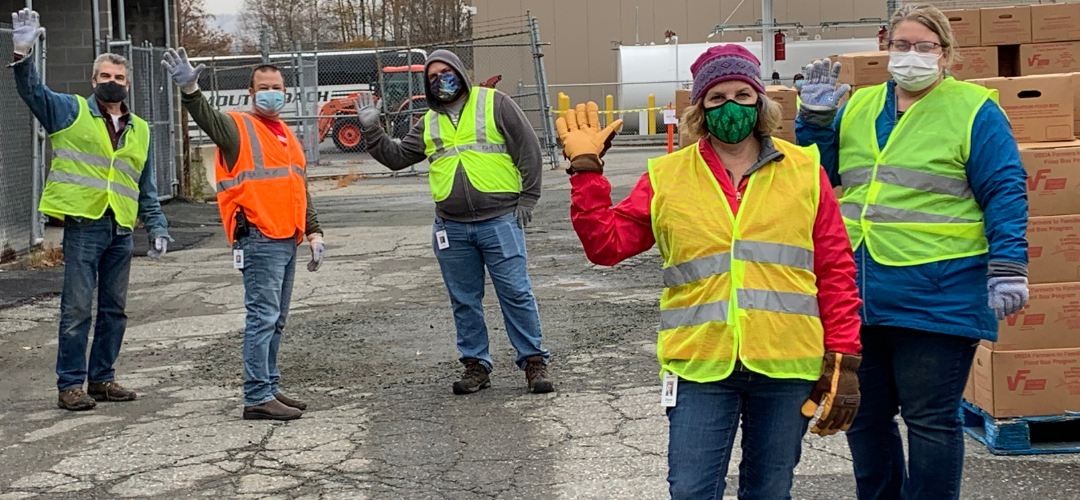 Last year was a year of strange silver linings. With so much tragedy and hardship, it is difficult to imagine what good could have come of it all. At Granite United Way, we have always felt that if we work together, we can overcome anything - "together we fight, together we win" – is how the motto goes. We continued to share this in earnest throughout the year, but in the back of our minds, we secretly wondered, can we really make it happen this time, or is this challenge just too much? As it happens, our communities did rally and showed us a beautiful silver lining that despite extreme adversity, the caring power of our supporters is greater in times of trouble.
As we closed out the campaign season, we found that most workplace campaigns were quite strong – with some exceeding their goals. How could this be? Jobs have been lost, lifestyles upended, and new financial strains should mean a decrease in giving, right? We asked some of our corporate partners what motivated them to stick with us through this pandemic year. Their answers are sure to inspire you!

Question: How has the Pandemic inspired more of your staff to give back to their community?
Androscoggin Valley Hospital in the Northern NH region shared their thoughts with us
Answer: Androscoggin Valley Hospital (AVH) employees are Values-driven. Our values of collaboration, flexibility, service, and integrity all carry over into the community. Many of our employees are not only donors but supporters and communicators. We can communicate the good work that GUW does, and vice-versa. We are friends and neighbors helping friends and neighbors, as Mike Peterson, AVH President and CEO, often indicates.
Being in healthcare, we are exposed to a lot of information and planning and seeing the day-to-day efforts and compassion of our providers and staff helps us recognize that we are a team - not only within AVH, but as an entire Androscoggin Valley community.
Question: Why do you run a Granite United Way workplace campaign?
NH Mutual Bancorp in the Central and Merrimack County regions shared their thoughts with us

Answer: Workplace involvement in the United Way is a long-time tradition for all of our organizations. At roughly 150 years old each, our three banks - Savings Bank of Walpole, Meredith Village Savings Bank and Merrimack County Savings Bank - are older than the United Way, so they haven't always had a workplace campaign, but we are long-time supporters! Both NHTrust, our trust and financial advisory firm, and New Hampshire Mutual Bancorp (NHMB) have been involved in the workplace campaign for as long as they have existed!
Our employees value the workplace campaign for a number of reasons: with staff who work and live throughout the state, GUW allows us to gather funds in one easy program and pass them to the United Way organizations serving the Monadnock area, the Nashua area and the Seacoast; all of our organizations match the funds that employees donate, so more money goes to meeting the needs of the communities that our staff value; donating is easy through the online system and automatic deduction from their paychecks (if they choose); the United Way carefully vets and monitors how undesignated funds are used so employees know that the greatest and most urgent needs are being met.
Question: Why do you do a corporate match and how does it inspire giving amongst your employees?

Answer from NH Mutual Bancorp: While each of our organizations is unique, they are all grounded in shared values. One of those values is stewardship, which means that we deliver enduring community leadership and support through trustworthy corporate citizenship; that we are committed to responsible individual and company actions; and that we support organizations in our communities to help make better places to live for all of us. A corporate match allows employees to make a bigger impact with the funds that they are earmarking for community nonprofit support, and they really appreciate that.
Question: Why is it important, now more than ever, that companies host workplace campaigns?
Two associates from Hypertherm in the Upper Valley region shared their thoughts with us

Answer from SC at Hypertherm: It is just as important this year as in past years for companies to host campaigns, so employees have an opportunity through payroll deduction to be charitable and give back to their communities. The nonprofits throughout our community need us more now than ever before. Because of COVID they have had to incur additional expenses on things like technology infrastructure, PPE, cleaning supplies, staff to replace volunteers and have had to retool all their processes. These added expenses are in addition to lost income due to program revenue losses or canceled fundraising events.
Answer from JJ at Hypertherm: There is an abundance of charities out there. How do we make the best of our charitable contributions? It takes a lot of homework to know. The UW does that for us. I love giving each payday to a cause that I trust and will help our locality.

We must try to fill the gaps. I believe UW disperses our donations intelligently and they have a wonderfully positive impact locally.
Question: Your company's campaign increased even amid a pandemic when many of your employees might be facing their own challenges, why do you think that is?

Answer from JJ at Hypertherm: I believe people care for each other more when times are bad or challenging. When problems arise like the virus or other natural disasters people who are not affected pull together for those who need it. We are a generous nation, and in NH we are especially inclined to give when our neighbors are hurting. Many of us are dismayed about limited school activities and sports, as well other UW funded activities. Taking a little out of each paycheck is a good way to provide funding for a charity or a group of charities. I have always given to UW and I am increasing my contribution each year. When the going gets tough, the tough get going. I think Hypertherm has a lot of tough people who want to help others. Our culture is to blame and hopefully, it is contagious.
Answer from SC at Hypertherm: Our Hypertherm Associates who felt financially able, wanted to help the community as they understood there was an increased need from the continued pandemic and then recovery. While we had fewer Associates who felt they were in a position to make a 2021 United Way pledge, those that were able were more generous this year than ever before. Associates fortunate to work at Hypertherm and know that as an essential manufacturer, Hypertherm has remained open and our revenues have remained strong. We also have a 53-year no-layoff philosophy so that adds confidence. As owners we want to take care of our Associates, our community, and our environment not just today but for the future.
Question: How has the Pandemic inspired more of your staff to give back to their community? How have your staff volunteered in your region during the pandemic?
Answer from Hypertherm: This year I joined an Early Childhood Committee through the HOPE Team. I also joined a Board for the nonprofit, Claremont Learning Partnership and the One for All Preschool. I stop in after work a few days a week and some weekends to do whatever is needed so the teachers have help. I purchase supplies when needed. I see the impact of my efforts in the thankfulness of the teachers and the positive outcomes for the children in their classrooms.
Parents and children as well as teachers are affected by the pandemic. This very important part of our economy and life has been hit hard. The Pandemic has shown just how important childcare is for working families. The education system for many years has needed additional, much more substantial, funding, and is now severely disadvantaged with the Covid 19 event. Anything we can do to help little humans grow and thrive, we should do. Helping parents and children helps society in meaningful ways. Any funding or support of teachers in the early childhood industry will only help all of us by ensuring quality, properly funded, childcare can happen for working families.
Answer from NH Mutual Bancorp: One of the attractions of working for a locally based mutual bank or financial advisory firm is that they are very community-focused. Our employees know that volunteerism and community involvement are valued, supported and encouraged. As a result, we tend to attract employees who are already community involved and/or interested in becoming even more involved. Our staff were already giving back – cooking and serving at food kitchens; serving on hundreds of nonprofit boards and committees; volunteering at schools, shelters and care programs; managing and volunteering at events and auctions; walking, running, dancing and sitting on barstools to raise funding for schools, projects and nonprofits. The pandemic didn't necessarily inspire more staff to participate – but rather to help the organizations that they were already working within new ways in truly challenging times. We are proud of their flexibility, dedication to keeping everyone healthy and getting the job done well - at work and in our communities.