Double Your Donation - Eversource $10,000 Match During #GivingTuesday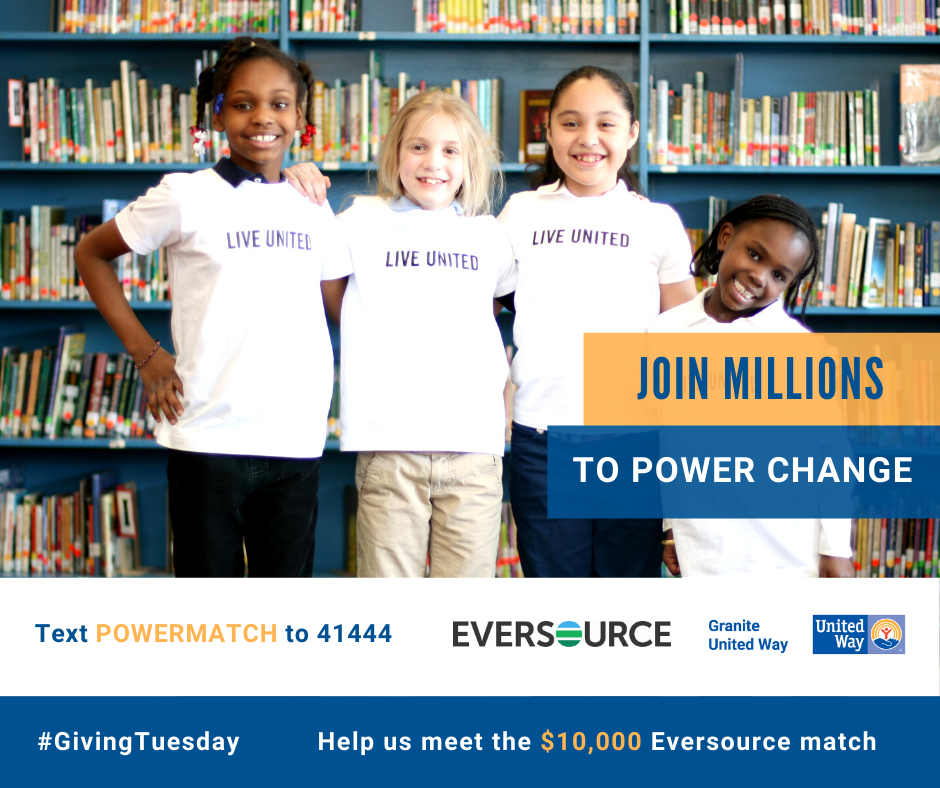 Help Us Meet the $10,000 #GivingTuesday Match Offered by Eversource
Give now and you'll help thousands during #GivingTuesday!
#GivingTuesday is our opportunity to provide even more support to individuals and families who need it. This year, Granite United Way is proud to be partnering with Eversource to double every dollar to help us #PowerChange in 2019. That means when you give $100, your donation turns into $200 worth of support.
All funds immediately go toward fulfilling basic needs and supporting the 211 NH program that provides critical resources for residents of New Hampshire.
Your gift during #GivingTuesday can help…
•
Provide over 5,000 households with free tax preparation services
, bringing over $5 Million in federal tax refunds to residents across New Hampshire.
•
Over 3,200 students
develop leadership skills and healthy habits through The Leader in Me program.
•
Answer more than 48,000 calls at 211 NH
, where Information and Referral Specialists at 211 NH connect New Hampshire residents with critical services
Giving is easy – you can give online
here
or text POWERMATCH to 41444.
Join Granite United Way and Eversource to #PowerChange and you'll be helping our neighbors Learn, Earn and Be Healthy this holiday season. Contributions made between now and the end of #GivingTuesday on December 3rd qualify for this generous match.