A Natural Fit: Supporting Recovery from Substance Use Disorder and Mental Health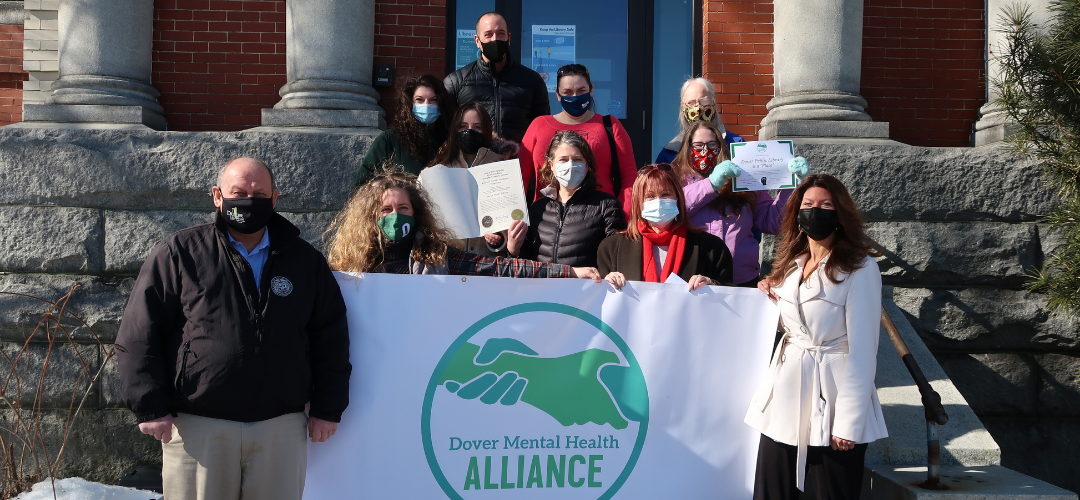 The Recovery Friendly Workplace (RFW) initiative, launched by Governor Sununu in 2018, promotes the health, safety, and wellness of NH workplace and employees by empowering workplaces to provide support and remove barriers for those in recovery from substance use disorder (SUD), in addition to those who have loved ones with SUD. To date, over 270 businesses throughout NH are participating in this initiative.

When Covid-19 hit, RFW provided a strong foundation of support for participating workplaces, but recognized the need to grow and adapt in light of the new challenges they were experiencing. Employers were expressing a growing awareness of the importance of supporting their employees' mental health, especially for those with co-occurring mental illness and SUD.

RFW employers were picking up on larger trends that would eventually be borne out by the data. In a brief on "The Implications of Covid-19 for Mental Health and Substance Use, authors Panchal, Kamal, Cox, and Garfield write:
The impacts of Covid-19 have negatively affected the mental health of many people and created new barriers for those already suffering from mental illness and SUD. During the pandemic, about 4 in 10 adults in the U.S. have reported symptoms of anxiety or depressive disorder, a share that has been largely consistent, up from 1 in 10 adults who reported these symptoms from January to June 2019. A [Kaiser Family Foundation] Health Tracking Poll from July 2020 also found that many adults are reporting specific negative impacts on their mental health and well-being, such as difficulty sleeping (36%) or eating (32%), increases in alcohol consumption or substance use (12%), and worsening chronic conditions (12%), due to worry and stress over the coronavirus. (para. 1)

They go on to note, "History has shown that the mental health impact of disasters outlasts the physical impact, suggesting today's elevated mental health and related needs will continue and likely increase well beyond the coronavirus outbreak itself."

To address the impacts of Covid-19, and the undeniable relationship between SUD, mental health challenges, and trauma, RFW has leveraged strong community partnerships to offer an impressive array of no-cost services, trainings, and supports to workplaces. One such noteworthy partnership was formed between the RFW initiative and a community-oriented pilot initiative called the Dover Mental Health Alliance (DMHA).

The DMHA was born from a shared community interest to tackle community stigma around mental illness and to shine a brighter light on the importance of mental health. Much like the RFW model and corresponding RFW designation workplaces can achieve, the DMHA model focuses on joining forces with business leaders, civic leaders, frontline workers, and other community partners to deliver training, heighten mental health education and awareness, eliminate stigma, and provide support resources leading to a DMHA "Place" designation. DMHA "Places" are recognized as judgement-free, safe spaces that connect employees, and in some cases customers, with emotional support and resources. Whether being designated as a DMHA "Place" or as an official Recovery Friendly Workplace, the collaboration of both initiatives supports building resilient communities that are educated, responsive, and conscious of the impact of both SUD and mental illness in support of NH's 10-Year Mental Health plan.

The natural alignment between these two initiatives was recently excitingly highlighted when the Dover Public Library became the first workplace in the state to receive dual "Place" and RFW designations.

Library Director Denise LaFrance said, "Staff of the Dover Public Library received training from both organizations and are excited to work with them to promote wellness in our community. We find that we get people from all walks of life into our building, and a lot of our work has veered into the social services sector. As Librarians, this is not something we have had training for, but want to be able to help."

This trend is continuing as SOS Recovery Community Organization, an RFW and long-time Champion of the Recovery Friendly movement, is moving forward with their DMHA "Place" designation, in addition to partnering with DMHA and RFW to provide recovery supports to employees of participating workplaces. Chameleon Group and Arts in Reach are also moving forward with dual RFW and DMHA designations.

Karen Morton-Clark, a Recovery Friendly Advisory for RFW and DMHA Steering Committee member, says, "It is our hope that other businesses will join the Dover community as a whole in supporting the DMHA, as well as the more than 270 New Hampshire RFWs throughout the state, and expand into other communities to provide greater understanding and compassionate support to those who have been impacted by substance use disorder and mental health challenges."

For more information about the Recovery Friendly Workplace initiative, go to www.recoveryfriendlyworkplace.com.

For more information about the Dover Mental Health Alliance and upcoming trainings, visit www.facebook.com/DoverMHA/ or email Suzanne Weete at suzanneweete@communitypartnersnh.org

The Dover Mental Health Alliance is part of a Strafford County non-profit community mental health center, Community Partners. For more information about Community Partners, go to www.communitypartnersnh.org.