Work United: Looking After Those Who Look After Our Children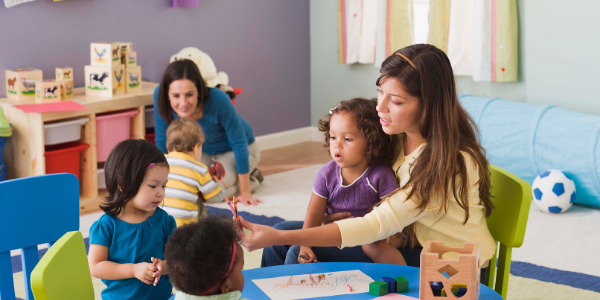 Something exciting is brewing in the Upper Valley – and it's long overdue! Work United is offering support services to childcare providers.
Since 2015, when the pilot of the Work United initiative launched in five area businesses, there's been talk of the need to provide this service to the childcare sector. There was never a question about the vital need for quality childcare and its intersection with the business community. With accessible childcare comes a more stable workforce, but what about the women and men caring for our children? How would that workforce be stabilized? Without them, where would we be?
Born out of the need to stabilize our Upper Valley workforce, Work United has been there to help solve non-work-related problems that could potentially derail good workers from their jobs. Trained United Way Resource Coordinators are available on-site at participating companies and provide guidance on a wide range of issues. Top issues have included housing, legal, food insecurity, mental health, home heating and, you guessed it, childcare.
Currently there are more than 45 childcare centers in the Upper Valley providing care for more than 2,000 children. But unfortunately, there are still children who are either waiting for a space to open up at a center or simply can't afford the price of care. The average price for childcare is $800 per month which is steep for families earning low to moderate wages. On the flip side, the average wage for childcare providers ranges from $10.00 to $12.00 per hour with a minimum of five college credits and 18+ hours of annual training. With education and training tuition costs to consider, many childcare providers are leaving the profession for more lucrative work, while potential caregivers aren't joining at all.
The Director of Work United, Pru Pease, was the program's first Resource Coordinator who saw from the start that the childcare sector had just as great a need as other businesses. "On my very first day on-site at Kendal at Hanover – back in 2016 - I was approached by their [then] Director of Childcare, Sharon Miller Dombroski, who told me that other childcare centers could really use Work United." said Pru, "Since then I've been waiting for the opportunity to share our services with the childcare community."
That opportunity came in May of 2019 when seed money was provided by the Jack and Dorothy Byrne Foundation to launch the Work United Childcare Initiative in the Upper Valley. For years the Byrne Foundation has been a generous supporter of Work United. It was their seed money five years ago that got the program off the ground and with proof of concept in hand, they gladly supported this new expansion. The need was clear, yet unlike the business sector, childcare centers did not have the discretionary funds to support the program.
Granite United Way then reconnected with Sharon Miller Dombroski who had since moved to Green Mountain Children's Center as their Executive Director, overseeing the childcare centers in White River Junction, Vermont and Claremont, New Hampshire. It was a happy reunion to say the least, "We had been waiting for this for years!" said Sharon, "Childcare is a rewarding yet very demanding profession, and Work United brings the extra support that our staff needs. We are seeing the benefits of the program every day, which supports working parents, businesses and a thriving community."
She wasn't alone in her thoughts on this new initiative. At a meeting of the Early Care and Education Association in May of last year, Pru Pease shared with the executive directors from over a dozen centers in the Upper Valley that help was on the way in the form of Work United. She received a rousing round of applause and many tears of joy and gratitude. All in attendance agreed that this was most welcome – and long overdue.
The plan was to roll out Work United to the four largest childcare centers in the region then include smaller centers as the program gained momentum. That didn't take long. In the first month alone, the Work United Resource Coordinator onsite had more than 30 conversations with staff members about stability issues. By the end of the year – just seven months – that number jumped to nearly 190! The need was clearly established, and Granite United Way was ready to open up the program to more centers, bringing the promise of stability at work to even more hard-working providers.
The energy and enthusiasm for Work United is growing. Since initial contribution from the Byrne Foundation in early 2019, other donors have expressed interest in supporting the Childcare Initiative. The Couch Family Foundation, a long-time supporter of Granite United Way, granted additional funding that would carry the program into 2020. Without funding from charitable organizations like Couch and Byrne, childcare centers would be unable to participate in the program. As awareness around helping the childcare sector grows, the Work United team can continue to provide vital support services to the professionals who are supporting the most vulnerable members of our community – our children.
For more information about Work United in the Upper Valley, please contact Elizabeth Craib, Granite United Way's Director of Community Impact, Upper Valley, at Elizabeth.Craib@graniteuw.org.