Work United Launches in the Upper Valley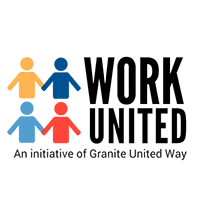 Granite United Way recently launched Work United, a rebrand of their initiative that focuses on helping businesses and employees strengthen job retention and decrease absenteeism. The initiative was formerly known as Working Bridges.
"We are proud of the Work United initiative in the Upper Valley. The success we've seen with local companies and their employees has enabled us to envision ways we can expand this program to help even more Upper Valley residents," said Elizabeth Craib, Director of Community Impact. "Our team offers employees the resources they need to stabilize personal situations that might otherwise be an obstacle in retaining quality employment."
Corporate champions in the Work United initiative include Alice Peck Day, Hypertherm, Kendal at Hanover, King Arthur Flour, Simon Pearce, Coop Food Stores, Dartmouth College, Mascoma Bank, Mount Ascutney Hospital and Timken. Through shared resources, employers can minimize employment barriers for their low-to-moderate wage workers and maximize the supports employees need to be successful and improve their lives.
Prudence Pease and Angel Hudson from Granite United Way are the 'faces' of the program and host office hours at these local companies as resources for employees.
"Working Bridges has been coming to our workplace for several months, but it only took a couple of visits for employees to line up waiting for Pru and Angel's weekly arrival. They have been more than flexible and accommodating in their willingness to meet with employees in several locations, allowing our staff greater access to their services while not impacting operations," said Kelly Mousley, Human Resources Service Manager at Dartmouth College. "Many staff have expressed their appreciation for Pru's guidance, patience and genuine interest not only in their work, but in themselves and their families."
"We love this program. It gives employees an opportunity to meet with a Resource Coordinator, on site, face to face to discuss challenging issues. In many cases we can see the positive outcomes," said Cathy Sullivan, Benefits Specialist at Simon Pearce. "This program has also helped managers and supervisors. They have the ability to identify and connect the employee with a resource coordinator who can provide professional resources. This has improved focus for both employees and managers at our company."
The program is making a difference. Last year Mascoma Bank employee, Rachel Lazar, found herself and her family in a financial crisis when her husband became unemployed. She didn't have to look far for help, because Angel Hudson from Granite United Way was already making office visits to her branch as an in-house resource.
"When I met Angel I was in a state of crisis," said Lazar. "We had an infant son and had just bought our home. I wasn't sure how we would manage. She helped us navigate through our situation, even helped my husband find a new job."
The program has experienced tremendous growth, and they have recently added Suzanne Waldren, a Resource Coordinator.