UWW President Brian Gallagher Visits NH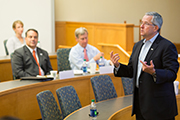 On Thursday, October 27th, Brian Gallagher, President and CEO of United Way Worldwide, joined Governor John Lynch, and spoke to an audience of Tuck Business School students on the Dartmouth College campus on the CEO experience.
Gallagher's presentation focused on "The Business Case for Global Well Being."
The team from Granite United Way was happy to welcome Gallagher to New Hampshire for the first time. President and CEO Patrick Tufts was able to share some of the great work happening in the Upper Valley and throughout the state.
"We were honored to have President and CEO Brian Gallagher visit New Hampshire and share his leadership experience with students in the Tuck School," said Tufts. "United Ways across the world have evolved to meet the needs of their individual communities. Mr. Gallagher's presentation further emphasized the need for collaboration, that working together is the only way to attain the results we all hope for and that the next generation will continue to play an important role in that effort. These are all ideas we've embraced at Granite United Way and are working on with our local leadership."
Brian A. Gallagher is President and Chief Executive Officer of United Way Worldwide, the world's largest privately-funded nonprofit. Under Gallagher's leadership, United Way has shifted the focus of its mission to driving community change. This approach, which brings people together to create more opportunities for all, has been adopted in more than 40 countries and territories worldwide. He has also elevated brand stewardship to the highest priority. In 2008, United Way launched the LIVE UNITED campaign to engage communities in a more inclusive strategic effort. LIVE UNITED is an invitation to give, to advocate, and to volunteer – an opportunity for all people to think of themselves as part of the solution.
He frequently speaks about critical issues ranging from sustainable growth in emerging economies to the ability of public/private partnerships to drive innovation and create long-term human success.
Dartmouth College is known for its support of United Way. Their annual campaign has often exceeded goals of nearly $300,000 and they hold the #3 spot on Granite United Way's Top 50 Companies. Recently, they initiated a volunteer policy that would allow qualified employees the opportunity to for paid volunteer hours to United Way affiliated agencies.
"What is the role of business, government, nonprofits and civil society? There is now a requirement that these three sectors come together at all levels—city, state, provincial, national—to figure out, what are the shared objectives. How do we redefine roles? How will decisions get made? What's the tax structure going to be? This is a big change going across the world right now." Brian Gallagher, United Way Worldwide President and CEO, on the changing social contract in a slowing economy during his presentation at the Tuck School of Business.
Rob Schultz, Granite United Way's Area Director for the Upper Valley, echoes Gallagher's remarks.
"In the Upper Valley we know how critical it is to work together," said Schultz. "Our volunteers are actively looking at new ways to collaborate and dig deeper into the critical issues facing our community. President Gallagher's visit to the region had great timing as we launch our local campaigns and engage new volunteers in the process."
Sara Kobylenski, Executive Director of the Upper Valley Haven, also shared her perspective on Gallagher's visit.
"After cataloging four key current social disruptions, Brian Gallagher challenged the audience to consider a new social contract, moving beyond the assumption that government provides a safety net and non governmental organizations fill in the gaps, to a perspective in which entire communities come together to create lasting solutions that lift up all segments of society. He spoke of the leadership that such a social contract requires, and the traits of such leaders. I was most inspired by his assertion that decision makers who are leaders focus first on community, second on institution and third on self," commented Kobylenski.