The Circle Program: Helping to Prevent Summer Slide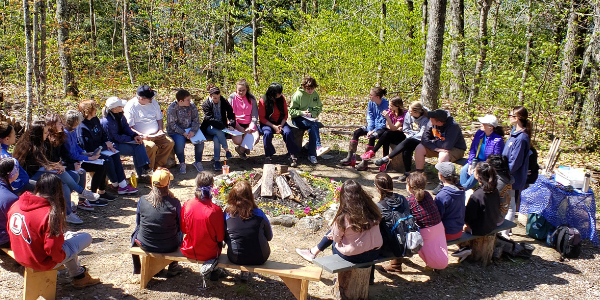 The Circle Program is an organization with a mission to provide socially and economically disadvantaged New Hampshire girls with new opportunities to develop the skills, courage, and confidence they need to handle the challenges in their lives.
"We do this by offering girls a unique combination of adult and peer support that is delivered through residential summer camp and year-round mentoring programs," said Kathleen Kearns, the Circle Program's Executive Director.
Circle girls who are considered to be 'at-risk' because of their family's low-income status are referred to the program by teachers, guidance counselors and social service agencies.
"Most of our girls are living at, or below, the poverty line," said Kearns. "We know this because they are eligible for 'free or reduced-priced' lunch in school and their meals are subsidized by the federal government."
All the girls referred to the Circle Program have great potential but have not had the resources or support to develop that potential. Many of the girls have displayed personal characteristics as low self-esteem, poor academic achievement, difficulty in making or keeping friends, and poor dental and physical health.
The Circle Program engages girls in a research-based Positive Youth Development (PYD) model and curriculum. Mentors provide positive support, education, and a caring, consistent presence in the lives of the girls -- along with unconditional, non-judgmental acceptance of the girl's family circumstances.
Circle Camp is an integral part of a girl's summer youth enrichment, allowing her to learn life skills, take healthy risks, make friends, and discover all she can be as an individual that has her own unique gifts and talents.
Attending Circle Camp is so much more than just campfires and s'mores. The camp is staffed by highly qualified educational professionals that view their work as an opportunity to provide summer fun in an alternative outdoor classroom.
"Many girls that struggle in school, thrive in the experiential, outdoors, hands-on environment of summer camp," said Kearns. "Here they can learn and practice life skills without feeling the pressure of the classroom."
Data shows that many youths experience a setback in their education when school takes a pause and they are away from the structured learning and the discipline of the classroom. This so-called 'summer learning gap' is particularly problematic for children in low-income families that are often already behind their peers academically.
Their parents, who are working hard to make ends meet, have neither the time nor money to send their children to an exclusive camp or take them on educational family outings.
If a child lives in a rural area or is an only child, that youth is less likely to have social contact with peers and is more likely to be isolated. Children from low-income families are also less likely to have access to good nutrition daily, a key component that supports all focused 'learning. Besides being an opportunity for fun in the great outdoors, camp helps meet the social, emotional and physical needs of each girl in a healthy and safe learning environment.
The Circle Program is unique in that it is not just camp and not just mentoring, but both. The camp is invested in each of its girls from fifth grade until they graduate high school.
"We expect our girls to graduate with a plan of action for life after high school whether that be vocational or trade school, college or a career path," said Kearns.

Circle girls learn life skills within a highly personalized curriculum designed to help them thrive. Girls learn individual leadership, discover how to work as part of a team, develop healthy relationships, improve their communication skills and take personal responsibility. They learn about healthy eating and lifestyle habits, enjoy physical activity and are guided to make productive, positive choices as they become young adults.
The United Way support has had a tremendous positive impact on the lives of the girls and teens in the Circle Program. Granite United Way grants and individual support from community members have helped them to continue to develop relevant curriculum and provide services for deserving girls that benefit from their participation.