#SaveYourRefund Grand Prize Winners Used NH VITA Sites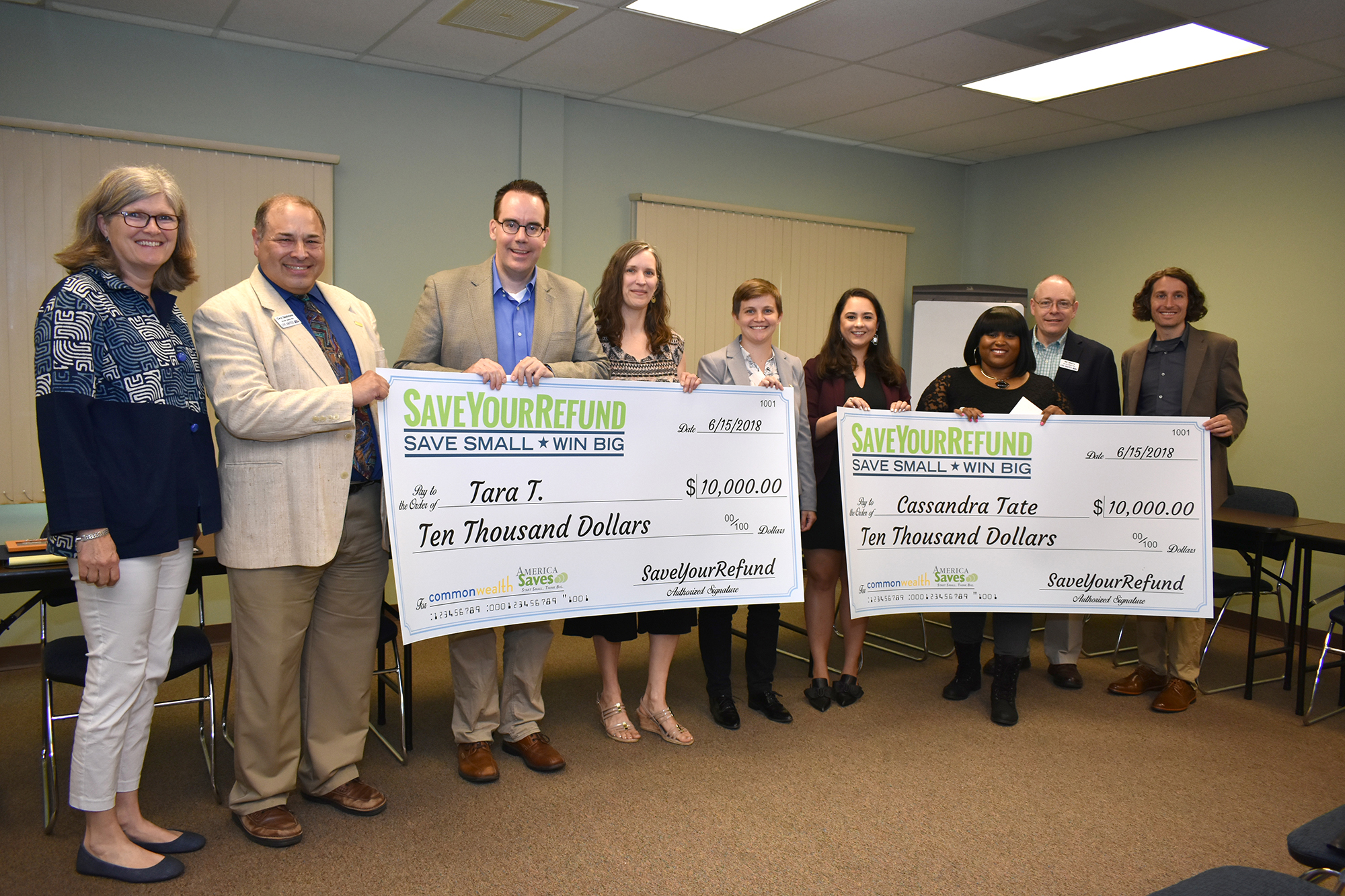 Granite United Way was thrilled to learn that two of New Hampshire's Volunteer Income Tax Assistance (VITA) sites were used by the winners of the #SaveYourRefund incentive program.
Commonwealth and America Saves are thrilled to announce Cassandra Tate of New Hampshire and Tara T. of Massachusetts as the two winners of $10,000 each in the 2018 SaveYourRefund Grand Prize Photo Contest. Commonwealth is focused on building solutions to financial challenges faced by financially vulnerable people. America Saves is a national campaign of the nonprofit Consumer Federation of America which encourages individuals to set goals and build personal savings.
"Saving money enables me to be more self-reliant and gives me greater peace of mind," said Tara. I am also setting an example of financial responsibility and preparedness for the younger generations."
The SaveYourRefund campaign encourages savings at tax time by offering chances at cash prizes for filers who save at least $50 of their tax refund in a qualified savings product, such as a savings account or savings bond, using IRS Form 8888. This year, about 3,500 tax filers entered SaveYourRefund and saved nearly $3 million.
Cassandra and Tara were selected among nearly 700 submissions to the $10,000 Grand Prize Contest, which asked them to share their motivation for saving through a captioned photograph.
"We are thrilled to award the SaveYourRefund grand prizes to Cassandra and Tara. Their inspiring stories reflect how having even a small savings cushion can give people the sense of security and confidence to pursue their dreams and create the future they want for themselves and their families," said Timothy Flacke, Executive Director of Commonwealth.
Both winners filed their taxes through community organizations offering free tax preparation as a part of the IRS's Volunteer Income Tax Assistance (or VITA) program. Cassandra filed her taxes at a VITA site run by Granite United Way in Laconia, New Hampshire, and Tara filed at The River Center Family and Community Resource Center in Peterborough, New Hampshire. They both credit the efforts of the VITA site coordinators, Cathy Dumais in Laconia and Nisa Simila in Peterborough, and their volunteer tax preparers for encouraging them to save and enter SaveYourRefund.
Cassandra, who worked the night shift at three jobs as a nursing assistant while putting herself through school and raising her son, has a dream to open her own hair salon business. She says, "Today what's important is owning things, having assets. I'm saving money toward my dream and to help me be more self-sufficient and create more assets for myself. I want to have something to pass down to my child."
For Tara, a waitress, saving has not always been easy. A chronic illness left her unable to work at times. But motivated by the example of a family member—and wanting to set a good example herself for the young people in her life—she set out to start saving even if it was only a small amount at a time, and now she has an emergency fund. Her next goal is to start a retirement account.
Over the past six years, SaveYourRefund has encouraged over 15,000 people to save nearly $13 million of their tax refunds using Form 8888.
"Our tax refund is the biggest check many of us see all year, making this windfall the perfect time to save," said George Barany, America Saves Director. "We're thrilled to be a part of the SaveYourRefund promotion to encourage Americans to save. Whether you are saving for a rainy day or retirement, or anything in between, we can all start small and think big like Cassandra and Tara by saving some of our tax refund for the future."
To see images from the announcement event click here.
For information on the SaveYourRefund promotion, visit www.SaveYourRefund.com.