Granite United Way Welcomes New Board Members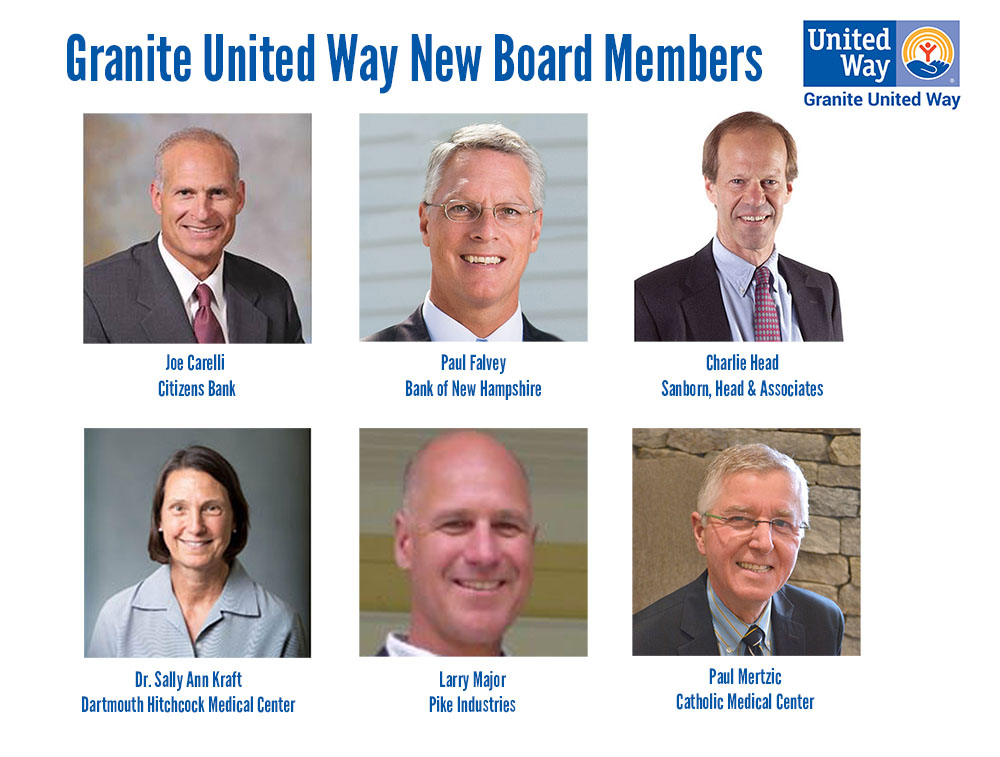 This month Granite United Way welcomed six new members to the Board of Directors.
Granite United Way is the single largest United Way in New Hampshire. It serves more than 80% of the state and Windsor County, Vermont. The organization has regional offices in Manchester, West Lebanon, Concord, Laconia, Ossipee, Plymouth, Berlin and Littleton.

"Our Board of Directors is comprised of the most well respected and talented community and industry leaders from across New Hampshire and Vermont," said Patrick Tufts, President and CEO of Granite United Way. "We are extremely fortunate to have Joe Carelli, Paul Falvey, Charlie Head, Dr. Sally Ann Kraft, Larry Major and Paul Mertzic join our impressive slate of Board of Directors. Each of them bring a unique perspective to the Board and will be a tremendous asset to the organization as we continue on our strategic path."
The following individuals have been elected to Granite United Way's Board of Directors:
Joe Carelli, President of Citizens Bank, New Hampshire and Vermont. He oversees the bank's Northern New England Leadership Team and charitable giving. He also co-chairs the bank's CFG Regional Advisory Board and is a member of Citizens' Executive Leadership Group. Carelli manages the bank's Commercial Banking portfolio for the Northeast.
A 36-year veteran of the banking industry, Carelli joined Citizens in 1992 and held various positions in Credit Administration, Community and Middle Market Banking, and managed the Commercial Real Estate, Healthcare and Not-for-Profit banking groups before assuming his current role in 2011.
An active member of the community, Carelli is past chair of the New Hampshire Bankers Association and World Academy, a private day school in Nashua. He serves on the board of directors of the Business and Industry Association of New Hampshire and as a member of its finance committee and the executive committee. He is a member of the board of advisors of Stay Work Play New Hampshire, the Nashua Region advisory board of the New Hampshire Charitable Foundation, and a trustee of the Palace Theatre.
Carelli and his wife, Paula, live in Hollis. They have three children.
Paul Falvey, President and CEO of Bank of New Hampshire. Falvey has 30 years of experience as a bank executive, most recently serving as President and CEO of Martha's Vineyard Savings Bank. Mr. Falvey was instrumental in the transformation of a $100 million New England based community bank into a $1.4 billion regional lender. Prior to joining Martha's Vineyard Savings Bank, Falvey oversaw the restructuring of Massachusetts based Holbrook Cooperative Bank as President and CEO.
Paul and his wife reside in the Lakes Region and have three children.
Charlie Head, Co-founder the consulting engineering firm Sanborn, Head & Associates in 1993 and currently serves as the firm's Chief Executive Officer. Since the founding of the firm, it has grown to 120 people in five offices in New England and Ohio, although his work has taken him all over the world. Charlie holds a BS degree in Geology from St. Lawrence University, a BS degree in Civil Engineering from UNH, and an MS degree in Civil Engineering from Colorado State University, and he is both a Registered Professional Engineer and a Licensed Professional Geologist. He is passionate about UNH and participates actively on the Advisory Board for the Department of Civil Engineering. He has previously held long-standing leadership positions on the Hopkinton Water Board and on the Board of Trustees of the Concord Community Music School, and is a member of the 2017 Leadership NH class. He recently became President of the GeoProfessional Business Association, a national organization serving over 250 member firms, and 100,000 individual members.
Head has been a long-time resident of the Concord area, and grew up in Amherst. He and his wife, Lindy, reside in Hopkinton. He has three grown children.
Dr. Sally Ann Kraft, MD, MPH, Vice President of Community Health at Dartmouth Hitchcock Medical Center. She leads a multi-disciplinary team dedicated to improving the health of communities across the region served by Dartmouth Hitchcock faculty and affiliates. She also serves as subject matter expert in Dissemination and Implementation at the High Value Healthcare Collaborative.

Prior to assuming her current position at Dartmouth Hitchcock, Dr. Kraft was the Medical Director of Quality, Safety and Innovation at the University of Wisconsin Health system from 2007-2014. She received her MD and MPH degrees from the University of Michigan, completed a residency in internal medicine at Santa Clara Valley Medical Center and fellowships in pulmonary and critical care medicine at Stanford University. She has practiced internal medicine and pulmonary-critical care medicine in Palo Alto, CA and Madison, WI.

Kraft resides in Hanover.

Larry Major, Government Affairs Manager at Pike Industries. Larry Major has has a long and distinguished career at Pike Industries serving in numerous leadership roles including Regional Coordinator and Environmental Health and Safety Manager.

Larry serves on the Board of Directors for Associated General Contractors of New Hampshire and New Hampshire Good Roads Association. He is on a number of committees within those organizations. He is a member of the Granite United Way Community Impact Committee and Financial Stability Partnership, the New Hampshire Business and Industry Association Economic Development Committee, and is a founding member of the Portsmouth Chamber of Commerce Government Affairs Committee. Larry works with many organizations within New Hampshire and nationally promoting sound transportation infrastructure policy.

Major resides in Loudon.
Paul Mertzic, RN, Executive Director, Community Health & Mission at Catholic Medical Center. Mertzic has served in several executive roles in primary care and community initiatives since joining Catholic Medical Center in 2002. Prior to his career at CMC, he served in clinical and leadership capacities at both Optima Health and Elliott Hospital, specializing in cardiology services.
Mertzic is very active in the community. He has served on several Boards, including Manchester Boys & Girls Club, Makin' It Happen, New Horizons of New Hampshire, Kids Vote, On the Road to Wellness and Pastoral Counseling Services. He is a graduate of Leadership Greater Manchester, 2004 and Leadership NH in 2014. He received the Good Samaritan Award from Pastoral Counseling Services in 2006, Catholic Medical Center Mission Award in 2010 and has served on the Governor's Council on Physical Activity and Health.
Mertzic and his wife, Karen, reside in Raymond. They have three adult children.