Granite United Way Honors Mary Jane and Nick Wallner with Rumford Leadership Award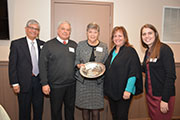 On Tuesday, March 7, 2017 Granite United Way presented Concord residents Nick and Mary Jane Wallner with the Rumford Leadership Award at their annual Merrimack County Leadership event held at the Red Blazer. The event was generously sponsored by Upton & Hatfield Attorneys at Law and the Nathan Weschler Company.
Mary Jane Wallner is currently serving her 19th term in the New Hampshire House of Representatives and has been the Executive Director of Merrimack Valley Day Care for the last 45 years. Nick Wallner is the Branch Manager for the Concord Branch of AAA of Northern New England. Both have served in countless civic and community organizations throughout their careers.
The award is presented to individuals who have shown tremendous dedication to the Merrimack County community. The list of past recipients includes Paul Rizzi, George Copadis, Craig & Lauren Savage, Jim & Ellen Bassett, Gary M. Shirk, Orr & Reno, Kurt & Elaine Swenson, Nick & Ruth Perencevich and Jefferson Pilot Financial donors, Edward & Lai-Ming Benoit and Gary Jones & Mary-Sue Tuuri Margaret & William Cain and Robert & Sylvia Larsen, Marie C. Swenson and
Ronald & Donna Wilbur, Bill Chapman and Carl Moskey & Debra Desjardins Drs. Douglas & Rebecca Ewing and Tom & Christine Rath, Dennis & Elizabeth Hager and Jack Hutton.
"We are proud to present the Rumford Leadership Award to Mary Jane and Nick Wallner this year. Their commitment to our community and improving the lives of our neighbors is truly remarkable." Said Patrick Tufts, President and CEO of Granite United Way. "They have dedicated decades of their life to this work and they have inspired countless individuals along the way."
The award was presented by Val Guy, Merrimack County Area Director, and her colleague, Rachel O'Neil, Director of Public Health and Development. The two presented a lengthy list of reasons the Wallners were receiving the award.
"Both Mary Jane and Nick bring an extraordinary list of professional accomplishments to their work. Their combined philanthropy has offered our community many opportunities to enhance our services and programs," said Guy.
While accepting the award, Mary Jane Wallner commented "This is truly an honor. We are so fortunate to live here in Concord and work with so many people that care about our community. In all the years we've been in this area, the United Way has been here helping agencies and organizations that whole time."
Nick and Mary Jane celebrate their 50th wedding anniversary this Friday, March 10th. They met in the Vista program and were married soon after. They have two daughters, Jessie and Jenny, and a granddaughter, Louisa.
To view all photos from the event, click here.