Granite United Way Central Region Celebrates Strong Community Commitment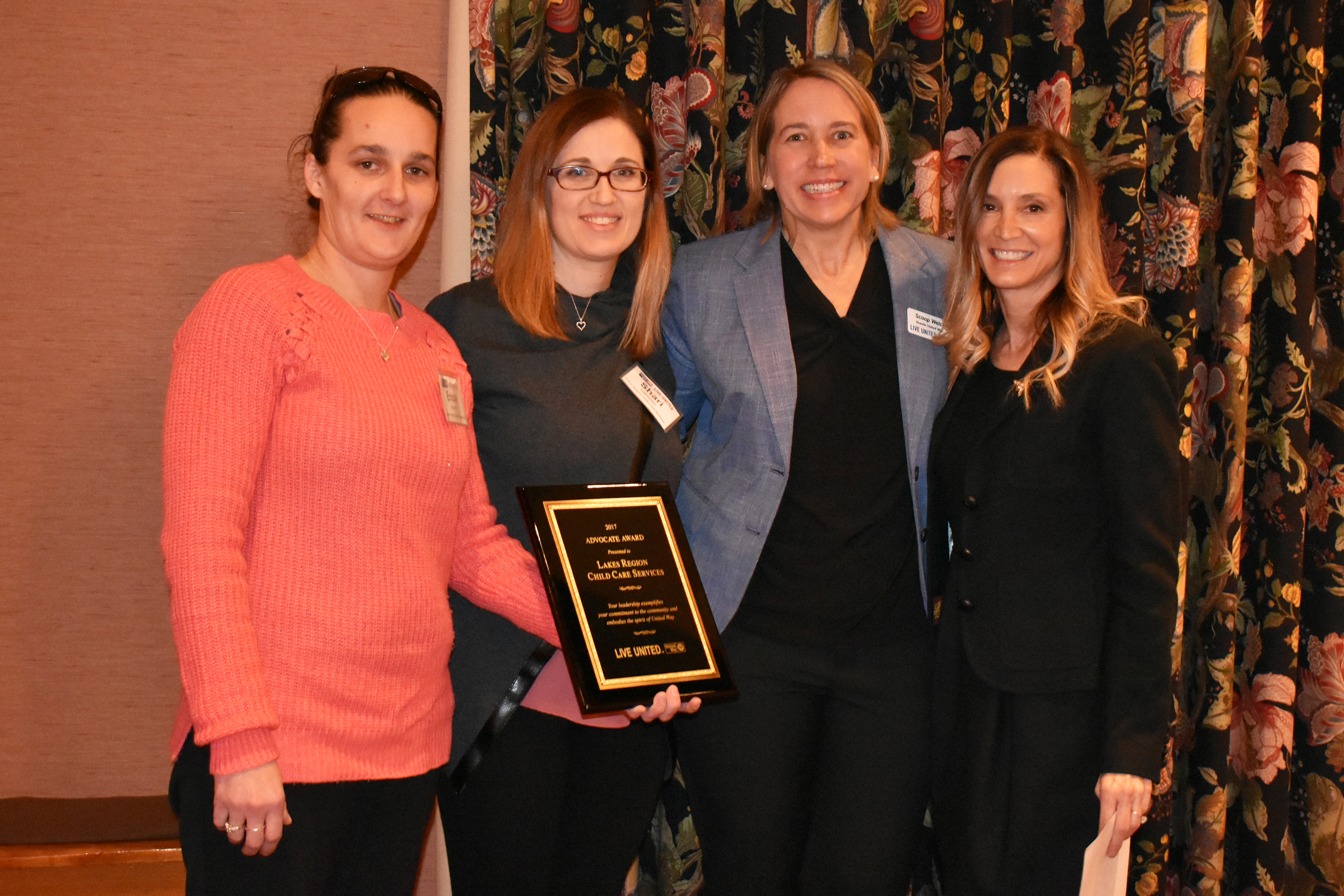 Granite United Way hosted its Annual Celebration on Wednesday, March 28, 2018 from 5 – 7 p.m. at Church Landing, 281 Daniel Webster Highway in Meredith. The evening was filled with award presentations for donors, agency and corporate partners and volunteers. The event was sponsored by the Bank of New Hampshire, Pike Industries, Melcher & Prescott Insurance and Meredith Village Savings Bank.
"This is an opportunity for us to reflect on the collective work of the past year and celebrate the many individuals and companies who have made significant contributions to our community through United Way." Said Cindy Hemeon-Plessner, Senior Vice President & Marketing Officer, New Hampshire Mutual Bancorp, who served as Master of Ceremonies. She is also a member of the Community Impact Committee in the Central Region.
Highlights from the evening included when Impact Moment speakers Chief of Police in Tilton, Bobby Cormier and Cenanne Sanders with Winnisquam Middle School. They shared the work being done through the Law Enforcement Against Drugs (LEAD) program.
Other highlights included honoring long time United Way supporter Tom Volpe with the GIVE Award. He received a standing ovation for his dedication to the community.
"As a community we are focused on helping others learn, earn and be healthy. Tonight we honored those who are in the effort with us, making this happen." Said Patrick Tufts, President and CEO of Granite United Way.
Awards were presented by Leo Greene, Melcher & Prescott Insurance, Campaign Chair, Cass Walker, of LRGHealthcare and Scoop Welch, Area Director, Granite United Way.
The following individuals and companies were honored:
GIVE Award ~ Tom Volpe
ADVOCATE Award ~ Lakes Region Child Care Services
VOLUNTEER Award ~ Carolyn Gaudet, AutoServ
Employee Campaign Coordinator (ECC) Award ~ Dona Murray, Bank of New Hampshire
Granite Awards
Bank of New Hampshire
Eversource Energy
Hannaford Supermarkets
New Hampshire Mutual Bancorp
Pike Industries, Inc.
United Parcel Service
To view photos from evening visit here.
Photo above: Lakes Region Child Care Services (LRCCS) was awarded the ADVOCATE Award from Granite United Way. Pictured here are (l-r): Erica Brough, Shari Lancaster (both from LRCCS), Scoop Welch, Granite United Way Area Director, and Marti Ilg, Executive Director of LRCCS.