Day of Caring: Upper Valley Region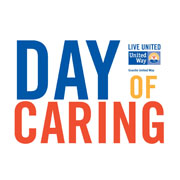 Granite United Way Day of Caring events kick off this September. What a great way to get involved and give back to your community! Volunteers have the chance to help out local non profit organizations with 'wish list' projects like landscaping, painting, cleaning and administrative work.
For more information on how you can get involved contact Val Guy, Senior Director of Regional Impact, at val.guy@graniteuw.org.
Be sure to share your experience on our Facebook page and Twitter account with the #GUWDOC.