Citizens Bank Donates $50,000 for Free Tax Prep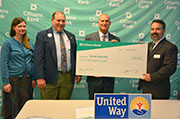 Doors to Granite United Way's Volunteer Income Tax Assistance (VITA) Program opened for free tax preparation sites across the state this week as Citizens Bank generously donated $50,000 to the program. A check presentation was made on Wednesday, January 18, 2017 at Workplace Success in Manchester, one of the most active VITA sites each year.
Individuals and families with household incomes up to $64,000 are eligible for free tax preparation through the VITA program. Taxes are prepared by IRS-certified volunteers who assist low-to-moderate income residents of the state to access the greatest amount of refunds. Both Granite United Way and Citizens Bank share a common goal of encouraging financial stability and recognize the importance of programs like VITA to families and individuals.
"The Volunteer Income Tax Assistance Program has served as a catalyst for bringing families out of that poverty line. We're fortunate to have the support of a corporate partner such as Citizens Bank, who shares our commitment to developing financial stability for individuals and families across New Hampshire," said Patrick Tufts, President and CEO of Granite United Way. "Our volunteers are trained to help residents claim thousands in tax refunds, including more than $2 Million in Earned Income Tax Credits last year. That one credit, combined with the Child Tax Credit, the EITC lifted, on average, 16,000 NH residents out of poverty each of the past four years."
"Citizens Bank is proud to support Granite United Way's VITA Program, which provides free tax preparation and helps thousands of residents put hard-earned dollars back in their pockets," said Joseph Carelli, President of Citizens Bank, New Hampshire. "This program allows individuals and families to maximize their tax refund, and provides additional financial education to help them improve their financial stability and achieve economic independence."
VITA sites are located in Salem, Manchester, Concord, Laconia, Franklin, Littleton and White River Junction and Windsor (VT). Additional sites including the Seacoast area and Peterborough. Several 'virtual' VITA sites are also scheduled to open this year in Colebrook, Gorham and Plymouth.
Scheduling an appointment is simple. Those interested can go to NHTaxHelp.org or call 2-1-1 and schedule their appointment.
"It is even more important to have taxes prepared by a certified preparer. This year there are changes to the distribution dates for those accessing the Earned Income Tax Credit and Child Tax Credit. Our IRS-certified preparers will be able to help individuals and families plan for the delay in distribution. They are estimating mid-late February refunds for those categories." said Cary Gladstone, Senior Director of 211NH and Asset Building Strategies for Granite United Way.
Granite United Way also encourages self-filers with internet access and a household income up to $64,000 to take advantage of www.MyFreeTaxes.com. This provides access to filing software at no cost and a toll-free number to call for tax questions. It is sponsored by United Way Worldwide.
For more information on Granite United Way's VITA program, contact Cary Gladstone at 603.625.6939 x 128
The VITA program is a partnership with United Way, Citizens Bank, the IRS and AARP Foundation Tax Aide.