Central Region Celebrates Community Champions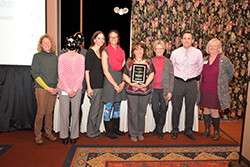 It was standing room only at Granite United Way's annual Campaign Celebration on Wednesday, March 22, 2017 from 5 – 7 p.m. at Church Landing, 281 Daniel Webster Highway in Meredith. The evening was filled with award presentations for donors, agency and corporate partners and volunteers. The event was sponsored by the Bank of New Hampshire, Pike Industries, Melcher & Prescott Insurance and Meredith Village Savings Bank.
"We are fortunate to have so many supporters of United Way here in our community," said Rick Wyman, President of President, Meredith Village Savings Bank and Executive Vice President, New Hampshire Mutual Bancorp, also a Granite United Way Board Member, who served as Master of Ceremonies for the evening. "I hope everyone left the evening with a sense of pride in the work we've been able to accomplish together."
Highlights from the evening included when Impact Moment speaker Erin Weller, client and Board Member for Laconia Area Community Land Trust, shared her personal journey to home ownership with the audience. Weller was given a standing ovation. Laconia Area Community Land Trust was presented with the ADVOCATE Award.
Another key moment came when Deb Keith accepted a Granite Award on behalf of Pike Industries. Granite Awards are given to companies who raise $100,000 or more during the campaign. The leadership and employees of Pike Industries have had that as a goal for several years and have come so close each year. This was the first time their campaign eclipsed the $100,000 mark.
An additional Granite Award winner, Eversource Energy, was honored for being the largest campaign in New Hampshire, raising over $416,000 this year.
The room was filled with applause and praise when the VOLUNTEER Award was given to Pleasant Street School and accepted by its Principal Dave Levesque. Every single student in their school participated in a Day of Caring project this year, the first school to lead the way in engaging students and families in the annual Granite United Way Day of Caring. The school also developed a video that they shared with the audience to capture the spirit of giving back.
The GIVE Award was presented to Rist-Frost-Shumway Engineering for utilizing the innovative ePledge option for their workplace campaign and increasing their campaign by 21%.
The Employee Campaign Coordinator Award was presented to Candice Murray of Melcher and Prescott Insurance for "running a model campaign" according to Campaign Chair, Ken Sawyer of Franklin Savings Bank.
Granite United Way President and CEO Patrick Tufts applauded the crowd of supporters "Together we are doing more work, working with more partners, and benefiting more people than ever before as we tackle the big challenges our community faces. Thank you all for making Your United Way strong!"
The following individuals and companies were honored:
GIVE Award ~ Rist-Frost-Shumway Engineering
ADVOCATE Award ~ Laconia Area Community Land Trust
VOLUNTEER Award ~ Pleasant Street School
Employee Campaign Coordinator (ECC) Award ~ Candice Murray, Melcher & Prescott Insurance
Granite Awards
Bank of New Hampshire
Eversource
Hannaford
New Hampshire Mutual Bancorp:
• Meredith Village Savings Bank
• MillRiver Wealth Management
• Merrimack County Savings Bank
Pike Industries
UPS
To view photos from the event, click
.